Casualty star Cathy Shipton: 'Duffy and Charlie are beyond the honeymoon period'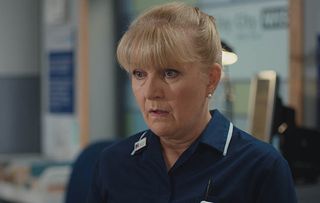 (Image credit: BBC)
Is the honeymoon over?! Casualty star Cathy Shipton reveals Charlie and Duffy's marriage may be in big trouble…
Keen Casualty fans will have noticed life hasn't been a basket of roses for the show's figurehead nurses, Charlie and Duffy Fairhead, recently.
After 30 years of will they/won't they, fans were delighted when Charlie and Duffy (affectionately known as #Chuffy on Twitter) tied the knot in 2017. But since Charlie accepted the post of senior nurse manager earlier this year, the couple have been passing each other like ships in the night.
Last week Duffy quietly made a GP appointment. This week sees the mature medic leaving her GP clutching a prescription, in a state of shock.
Later in the busy ED, instead of opening up to husband Charlie (Derek Thompson), Duffy decides not to tell him she's been diagnosed with clinical depression and anxiety, and prescribed anti-depressants.
Matters get murkier when Duffy bumps into childhood sweetheart Bill (played by The Bill and London's Burning star Clive Wood) and ends up confiding in her old boyfriend instead of her hubby!
Here Casualty legend Cathy Shipton reveals more about Duffy's health shock and why she turns to another man for comfort…
Duffy cuts a lonely figure lately. Is this because of Charlie's work commitments?
"Charlie's promotion means he's really swamped at work. The fact doctor Dylan Keogh (William Beck) breached the 12-hour rule means the ED is due to be investigated by the CQC with very short notice, so the pressure is absolutely ramped up on Charlie, and Duffy's aware of that."
What affect is this having on their relationship?
"They're just not quite meeting in the middle - Charlie didn't go to Duffy's granddaughter's birthday party because of work… and these things mount up!"
This week Duffy visits her GP and is diagnosed with depression and anxiety. Is that a shock for her?
"Yes, Duffy's not sure the doctor is right in their summation of anxiety and depression, and thinks perhaps it's something she can get through herself. Medics aren't always the best people for themselves! Duffy's quite stoic. If she has a headache or a cold, she pops a pill and gets on with work."
Why doesn't she tell Charlie about what's happening in her life?
"Duffy doesn't want to add another layer on Charlie's shoulders. It may also be because they've gone beyond the honeymoon period of their marriage. They're not looking after each other as best they could because of the pressures of work."
We need to talk about her pal Bill! What is their history?
"Bill and Duffy were childhood sweethearts. Bill has a bellyful of problems with his daughters and, true to form, Duffy ends up as a shoulder for him to cry on. But when he witnesses Duffy having a panic attack on the stairwell this week, Bill knows things aren't great with her."
It's taken thirty years for Charlie and Duffy to get together in Casualty. We're worried they're on the rocks!
"Ahh well, this is Saturday night drama. I'm not going to say any more!"
Casualty, Saturday, 8.35pm, BBC1
Get the latest updates, reviews and unmissable series to watch and more!
Thank you for signing up to Whattowatch. You will receive a verification email shortly.
There was a problem. Please refresh the page and try again.