Casualty's George Rainsford: Ethan's fraught and Cal's news would push him over the edge!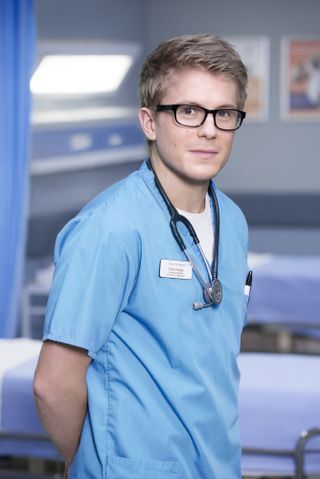 (Image credit: BBC/Warren Orchard)
Casualty star George Rainsford reveals sensitive medic Doctor Ethan Hardy has the shift from hell and is pushed to his limits this Saturday (BBC1, January 16).
But that's nothing compared to how he'll react when his brother, Cal, eventually reveals they're both adopted and may have inherited Huntington's disease from their birth mother!
Why is Ethan so stressed and emotionally drained this week?
"He's still mortified about not picking up on the previous episode's domestic violence case. Young Olivia was the epitome of a vulnerable patient and Ethan's normally such a meticulous, caring doctor – but he was just so busy the day he treated her. Now he's throwing himself into work to offset his guilt!"
And it's not a normal day at work this week, either…
"No, the hospital's on 'black alert' because the system is at breaking point. Ethan's determined to step up as a doctor. Instead of taking time out he wants to go the extra mile to help his patients. But whenever he gets close to helping someone, he's called on to something else. He gets increasingly frustrated by the system."
How would you describe his demeanour as the day wears on?
"Ethan's stressed, overtired, fraught, and also feeling guilty. He's also got two really sad medical cases this week – dying elderly lady Flossie, and Chris, a suicidal patient who's lost his family in a car crash. Chris's case is particularly sad and moving because Ethan doesn't have the time to help him."
Does stress lead him to act out of character?
"Yes! When Peter (Heartbeat's Rupert Vansittart), a really obnoxious pushy patient comes into the ED with a cold and sprained ankle, his behaviour tips Ethan over. It's out of character, but he loses his temper because he's so stressed. Luckily Cal and Charlie are there to stop Ethan making a big mistake!"
Cal's on the verge of confessing they're both adopted and may have inherited Huntington's disease from their birth mother. How do you think Ethan will react to such massive news?
"If Cal were to tell his brother all that at this point I think it would push Ethan over the edge! A lot of things are going wrong in this shift and Ethan already feels everything's out of his control. With the day being so stressful, hopefully Cal will see it's not the right time to talk to Ethan. Though this keeps happening!"
Will there be major repercussions when the adoption revelation comes out?
"At the minute Ethan's putting Cal's behaviour down to him losing baby Matilda, and has been giving him space, not realising Cal's doing detective work and finding out about their birth mother. This is the beginning of a massive few months for Ethan. There will be a series of life-changing bits of news and emotional outpouring. Cal's going to have to face up to what he's been up to!"
Get the latest updates, reviews and unmissable series to watch and more!
Thank you for signing up to Whattowatch. You will receive a verification email shortly.
There was a problem. Please refresh the page and try again.