Cathy Shipton: 'I choked up when the nurse advisor told me she grew up wanting to be Duffy'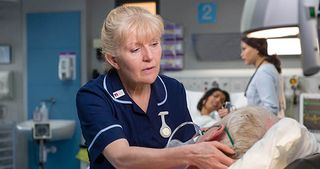 (Image credit: BBC)
Original Casualty cast member Cathy Shipton (opens in new tab) spent 17 years on the long-running Saturday night drama, during which time Duffy enjoyed a close and occasionally flirtatious relationship with Mr ED himself, Charlie Fairhead.
She briefly returned for the show's 20th anniversary episodes in 2006. Now, as series 30 begins amid the chaotic aftermath of Zoe and Max's wedding, Duffy returns as an agency nurse in two special episodes, written by Casualty's creator Paul Unwin.
Shockingly, after anticipating a happy reunion, she ends up providing emergency treatment for her old friend, Charlie, when he suffers a heart attack.
TV Times (opens in new tab) couldn't wait to hear more from Cathy, 58, about her dramatic return this weekend (BBC1, Sat and Sun)...
Cathy, we're thrilled to see you back. Were you immediately keen to return?
"Well it was like a perfect storm, really. You've got 30th anniversary coming up next year, and then I heard Paul was writing and directing the episodes. I just thought Duffy was going to flit in and say hello to Charlie, but once I saw the scripts I realised she was assuming a lot more authority within the department, putting Dylan and Ethan straight. So that was fantastic to feel that the character was really being developed even after 30 years!"
Last time we saw Duffy she was setting up a free clinic in Cambodia. What brings her back to Holby?
"In the interim she moved to New Zealand with her family and she's really suffering from empty nest syndrome now. Her boys are grown up and she suddenly feels completely redundant. So in a very Duffy-like kneejerk reaction she buys a ticket back to Britain and signs up with a nursing agency. Her first shift is at Holby A&E."
She's in for a nasty surprise when she sees Charlie, isn't she?
"Yes! Nobody knows her in the department, they just call her 'nurse'. Then a cleaner comes over to tell her a man has collapsed and she realises it's Charlie. Two doctors pile in and tell her to get out of the way, but of course the public are going to think, 'Argh, it's Charlie and Duffy, don't do that!'
"Obviously viewers know the Charlie and Duffy back story, but the regular characters don't and it's life or death stuff. There were a lot of tears filming those scenes, I can tell you, we probably looked awful!"
It must have been fun to be reunited with Derek Thompson, who plays Charlie?
"My return wasn't really confirmed till quite late, so I texted him and he just texted me back massive exclamation marks and hearts and kisses. We've been in touch a lot over the years so we've not really lost contact."
The set has moved from Bristol to Cardiff since your last appearance. How different did you find it?
"The old set was quite difficult to film on just because it was in a warehouse, but we're in a studio lot now so you can shoot longer takes.
"In one of my scenes I was running around, relaying all the medical information and then I had to climb on the bed to keep pressure on a wound. I was thinking, 'I know I've run marathons but hang on, this is above and beyond the call of duty.' I'm quite fit, but I'm no Jessica Ennis!"
Do you still watch Casualty?
"Yes and I love Amanda Mealing, the way she plays Connie is fantastic because she's a consummate doctor who doesn't shy away from tough choices.
"Casualty has always provided strong roles for women, even if you go right back to the beginning with Brenda Fricker playing Megan. It's fantastic to present role models for young girls. I'm not saying they have to be nurses and doctors, but the show tells them to do what they want and stick up for what they believe in."
Currently you're only appearing in two special episodes – that's not enough! Would you consider a permanent return?
"I can't say too much about that at the moment. We'll see if they have ideas to develop the character. I certainly feel that from how Paul has reintroduced her there is the possibility, but obviously I'm not the final arbiter in that decision..."
Casualty celebrates its 30th anniversary next year – are you surprised it's still going strong?
"Well, the show was axed after series two. Luckily Anne Robinson loved it, so she'd show a clip every week on Points of View and she always praised it in her newspaper column. The viewing figures doubled and we all got reinstated! I still think it's strong Saturday night viewing, the subject is interesting and the public has kept it going."
Are there any other Casualty characters you'd like to see back?
"Oh Gosh, I wonder what Robson Green [who played Jimmy the porter in the early days] would make of it all now! I think it's probably a bit beneath him to come back as a cheeky porter, perhaps he'll come back owning the hospital. I loved Barbara Marten, who played Sister Eve, it would be great if she returned."
You must be delighted that Duffy is still such a fan favourite?
"I hadn't done any telly when I started playing the character, and my eye was just on not getting sacked! Then I found it quite weird to start with because people get freaked out if they see you in Homebase!
"When we were filming these episodes, the nurse advisor told me she was a nurse because of me. She said she watched Casualty growing up and she wanted to be a Duffy. I get very choked up by stories like that, because you realise the brilliant impact the series has had on society. I'm proud to have been part of that."
Get the latest updates, reviews and unmissable series to watch and more!
Thank you for signing up to Whattowatch. You will receive a verification email shortly.
There was a problem. Please refresh the page and try again.