Paul O' Grady: 'There are some absolutely lovely dogs in my Christmas special'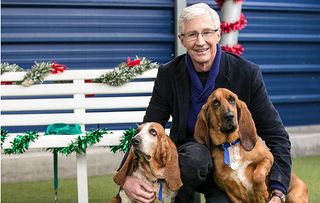 Will Paul take a new dog home for Christmas? Watch the Paul O'Grady: For the Love of Dogs at Christmas on ITV at 7.00pm at Christmas Day
We all know what Paul O' Grady asks Santa for when he films Paul O' Grady: For The Love of Dogs at Christmas (airing Christmas Day) – more pets! But his Yuletide wish may have already come true this year as he hints there's a special Battersea resident he's struggling to leave in kennels…
Here Paul O'Grady tells us about the four-legged friends searching for a home, his visit to Great Ormond Street Hospital, and what the festive season holds at his farm in Kent...
What can we look forward to in the special, Paul?
Paul O'Grady: "There are some absolutely lovely dogs in this one, including a really friendly Staffie and two fabulous Bassett Hounds who are completely inseparable, they have to be rehomed as a pair. Don't worry, all the stories have happy endings, you can't have a dog dying at Christmas!
The special also sees you bringing along some of your furry four-legged friends from Battersea to visit young patients at Great Ormond Street Hospital (GOSH). Did they enjoy seeing the dogs?
Paul: "It was wonderful to see the children's eyes light up when we arrived with the Battersea dogs. I know how much they will be missing their own pets. Some of the children had drawn pictures of their favourite dogs, and they were absolutely made up to have a furry friend sit by their side. The dogs loved the attention, and it was such an honour to meet with the children, their families and the hospital staff, some of who will be working over Christmas."
Paul had a wonderful time taking the dogs along to see the children at GOSH
Which dog stole your heart this year?
Paul: "This heavily pregnant little mongrel was brought in, a tiny terrier-type, who had been dumped on Hampstead Heath on Bonfire Night. How can people do that? We called her 'Bauble' on the spur of the moment and then I changed it to Minnie. She's such a little sweetie, she just sat there shocked and exhausted, and she played on my mind…"
Does that mean she will be joining the O' Grady clan this Christmas?
Paul: "It's definitely been a challenge for me to resist the temptation. Whether she comes home with me once the pups are weaned or not… you'll have to watch to find out"
What festive telly will you be watching?
Paul: "French and Saunders, that'll be good, I like Dawn and Jennifer. My family will put For the Love of Dogs on but I have to go and sit in the kitchen while they watch. No offence to Mary Berry or Nigella but I won't be watching them, I don't really want to see someone making mince pies in an immaculate kitchen in an air of calm. Not when it's sheer bedlam at my house and the place will get trashed!"
GOSH pic: Kate Walch
Get the What to Watch Newsletter
The latest updates, reviews and unmissable series to watch and more!