Corrie's Alison King: 'Carla and I are chalk and cheese – I only have one pair of heels!'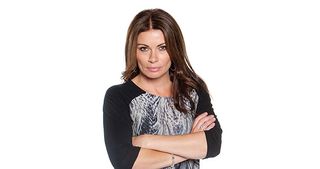 Carla Connor will have no arguments with the old adage of money not buying happiness. The factory boss may have more cash than half the residents of Weatherfield put together but her life is one desperate downward spiral after another.
Having lost a baby and been abandoned by her cheating alcoholic husband Peter, she thinks she started a fire that killed two people and has now looked for solace in gambling.
It starts with an online punt and before long; Carla is risking huge sums of money in a game of poker.
Corrie's Alison King (opens in new tab) tells TV Times (opens in new tab) about Carla Connor's latest problem…
How did Carla's gambling start?
"Whilst she was in LA, Michelle found casino receipts in [Carla's] bag. Like any addict she is in total denial and gets angry at anyone who suggests she might have a problem."
But who could blame Carla for wanting to numb the pain as thinks she started the fire that killed Kal and Maddie?
"She really believes she is responsible for the fire and their deaths and that is an awful thing to have to live with.
"It would be a relief for her to find out that Tracy was to blame. She would also be bemused as to how anyone could be so twisted. She would also want to know what the hell Tracy was doing there."
Soon Carla arranges a game of poker at Roy's with Nick, Erica and Lloyd. Does it get any worse?
"She is going to resort to using some else's credit card once the gambling has really got a grip. She gets Sally to cancel meetings because she is so addicted to going online, so her business will suffer too."
Have you ever gambled yourself?
"I have been to the dogs, casino and races once each in my life and if I never went again, I couldn't be more pleased.
"Each to their own, but it is not my cup of tea. I certainly don't have a poker face!"
What would you suggest Carla should do to help her get through this addiction?
"Each experience is different, so it is important that it is true to the character. Carla is an addict. It seems to be a default in her. She uses these things to try and forget when life gets tough, which for her is quite often.
"I think she needs to find a nice guy – Nick would be a good option. She needs to stop going for the bad boys and perhaps concentrate on her female friends and listen to them.
'It might also be an idea to have a few bottles of water along with all the red wine in her cupboard…."
Is it difficult to shake off those dark moods of Carla at the end of a working day?
"When you are acting, your body thinks you are really feeling those emotions, even though in your head you know it's pretend. It has been very full on for the past few years, but I am lucky because I have the joy of a beautiful daughter to come home to.
"Daisy Mae is such fun to be around and I forget Carla's problems when I am doing mummy things."
After nine years in Coronation Street, you've recently announced that you'll be taking a break from the soap in 2016. Is the gambling addiction leading to her exit?
"I have no idea. It is such a long way off, anything could happen. I haven't even started thinking about leaving. It is a whole year away and that is a long time in this job.
"I only intend to take a break – I definitely want to come back. I did it once before and Carla is the sort of character who can easily disappear off to see her friend in LA now and again."
Away from the cameras, do you have anything in common with Carla?
"We are like chalk and cheese, especially when it comes to the way we dress. I spend my days in jeans, trainers, flat boots and big snuggly cardigans. If I have to get dressed up for an awards ceremony I find it very stressful. Carla and I are very different in that respect.
"I only have one pair of high heels. I am much more of a tomboy – I don't own any power suits. People always expect me to be like her, but no matter what I say I cannot convince them otherwise until they see me going into work in my pyjamas.
"I like it when Carla has a tough time and looks a bit rough as I do my own make up and can just come in and push a brush around my face and go "Done!" It's much harder when I have to get glammed up.
"I don't dress up to go out because I am a home bird. I love being at home, having a glass of wine and watching a good film – I love settling down in front of the TV and just lying there. I don't go to bars any more."
Your schedule is currently flat out, so have you booked time out for a break?
"It will be very busy for the next few months. However, I have got a holiday planned for later in the year. I am hoping to go away with Daisy Mae and my friend and her daughter. I'm really looking forward to having a break."
Get the latest updates, reviews and unmissable series to watch and more!
Thank you for signing up to Whattowatch. You will receive a verification email shortly.
There was a problem. Please refresh the page and try again.