'It'd be wonderful if Corrie brought back my sister, Gina,' says Sally Dynevor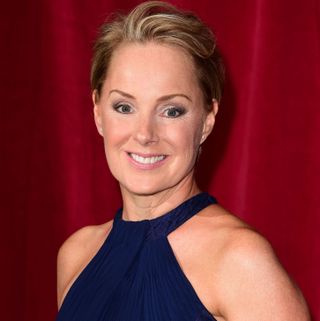 (Image credit: PA ARCHIVE IMAGES)
Coronation Street's Sally Dynevor (opens in new tab) chats to Soaplife about her hopes for the new era at Corrie, her family and her dreams of doing MasterChef!
Change is afoot at Coronation Street as new producer Kate Oates, former boss at Emmerdale, takes charge in Weatherfield. A new producer always means change so how does Sally Metcalfe actress Sally Dynevor feel about this?
"It's a kind of mixture of hope, fear and excitement," she told Soaplife. "Everyone speaks very highly of Kate and she's a new broom for us. It's a new era for the Street, but there's always an element of uncertainty with a new producer because you don't know what they're going to do and which way they're going to go."
If you could choose something to happen to your character, what would it be?
"I'd love it if Gina, Sally's sister, came back to Weatherfield. She was on the Street once years ago. Gina's the only extended family Sally has left as both her parents passed away some years ago, I think. There's been no talk of it so far as I'm aware, but it would be wonderful if they cast a Gina and she turned up in Corrie after all these years. Can you help put it out there?"
Done! What would Gina be doing?
"Heaven knows what Gina is up to now, but it would be fascinating to find out after all these years. It would also be great to see how Sally reacted to her little sister. They never got on that well."
Are you a political animal, like Sally?
"As a family, we sit and discuss what's happening in the world and certain issues. We all have strong opinions, but the male members of my family are more political than I am. My husband Tim [Emmerdale scriptwriter Tim Dynevor] (opens in new tab) is into politics, while our son Sam is studying it. According to Sam, I'm not political at all!"
Are you as interfering as Sally is as a mum?
"I'd describe myself as a gentle mum. I'm not a great disciplinarian. I try to be encouraging and protective and supportive, but I also want to be a friend to my three children. For me, the best part of being a mum is enjoying seeing my children happy."
Did you want your elder daughter, Phoebe [who's appeared in Dickensian and The Village (opens in new tab)], to become an actress?
"To start with, I said, 'Oh don't act - it's so hard as a career!' But I saw how passionate she was, how much she wanted it and I realised it was what she had to do. As a parent you've got to support your child as much as you can and I really do support her. I'm happy she's doing what she wants to do. If she's happy, I'm happy."
We've heard you're a wiz in the kitchen, Sally!
"I love poring over cookery books, but I'm not great at following recipes. I'm more of a chuck-it-all-in-the-pan-and-see-what-happens kind of cook. I'm good at using up what's left in the fridge and making something out of not very much."
Do you have a signature 'leftover' dish?
"I do, actually. It's a kind of variation on an old Delia Smith recipe, cous-cous with roasted vegetables in a spicy harissa sauce. It's a veggie dish because Tim's a vegetarian. I do miss cooking a roast dinner. Although I cook meat dishes for myself and the kids. Joe [Duttine, who plays her screen husband, Tim] sent me a photo of a rack of lamb he'd made the other day and I was quite jealous!"
Would you ever do a celeb MasterChef (opens in new tab) or Bake-Off (opens in new tab)?
"I would, although I'd be very nervous. The reality show I really want to do is Strictly Come Dancing. I'm not interested in I'm a Celebrity (opens in new tab) and there's no way I'd do The Jump (opens in new tab), not with all those injuries!"
What's been your favourite storyline in your 30 years at Corrie?
"I'm really enjoying Sally and the councillor stuff. I love doing comedy and I'm so grateful the writers decided to take her down that road. It started years ago when Sally became very pushy about daughter Rosie's education. That's when she first showed her snobby side. I love it. The more snobby and snooty she is, the more I enjoy it."
Do you have any regrets about spending so long in the same job?
"I occasionally regret I didn't do more theatre before I joined Corrie, but there's no real reason why I shouldn't take time out and go off and do some theatre at some point, like other Coronation Street actors have."
Coronation Street (opens in new tab), ITV.
Thank you for signing up to Whattowatch. You will receive a verification email shortly.
There was a problem. Please refresh the page and try again.