Frustrated Doctor Who star Peter Capaldi claims 'BBC takes the show for granted'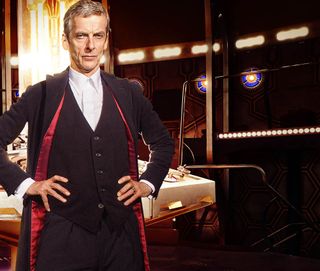 (Image credit: BBC/Ray Burmiston)
Peter Capaldi (opens in new tab) has revealed he was upset by the BBC's decision last year to move the drama behind Strictly Come Dancing (opens in new tab), saying network bosses have taken Doctor Who "for granted" and admitting, "It does frustrate me".
"If you're going to have a family show, I think you have to build up a little ritual around it - and that ritual usually starts with having it on at the same time [every week]," says Peter.
"Even I didn't know what time it was on because it got later and later and later."
The BBC has so far declined to comment.
Peter joined the franchise in 2014, replacing Matt Smith (opens in new tab) as the 12th Doctor on the show.
But while his arrival to the show was hotly-anticipated by loyal fans, ratings have seen a decline, with last year's viewing figures less than those boasted in 2014.
The first episode of the 2015 series had an overnight audience of 4.6 million viewers.
The figure was more than 2 million down on Peter's debut the previous year and understood to be its lowest series opener since the show's return a decade ago, reports The Mail.
While Peter admitted that he doesn't like reading the ratings, when asked whether the BBC had taken the show "for granted", he firmly responded: "Undoubtedly".
Explaining how he reached that conclusion, the BAFTA-nominated star said: "The BBC is an incredible organisation, but...sometimes people there think, 'That's looking after itself'. And it's not being looked after.
"I think maybe their eye was taken off the ball, or the show was seen as a thing they could just push around. It's not. It's a special thing."
The star's bold statements come after executive producer Steven Moffat (opens in new tab) voiced his concerns about the show's post-8.00pm Saturday night slot, calling the scheduling "not smart".
Speaking about the scheduling during last year's run, he explained: "I don't think 8.25pm is brilliant for Doctor Who. I'm not blasting the BBC or getting cross or anything, but that's not smart.
"I don't think anyone thinks that's smart. If there's a slight, and it's only a slight, drop-off, it's I think, that's not where Doctor Who's meant to be."
He added: "Doctor Who's not designed and built to go out at 8.25pm - that's Sherlock o'clock. It's for earlier in the evening."
Steven has since announced his plans to leave the show, with the next series of the hit programme confirmed to be his last and broadcasting in spring 2017.
The next new episode of Doctor Who (opens in new tab) will air at Christmas 2016.
Thank you for signing up to Whattowatch. You will receive a verification email shortly.
There was a problem. Please refresh the page and try again.