Steven Moffat: The fuss over Doctor Who's first gay companion is 'nonsense'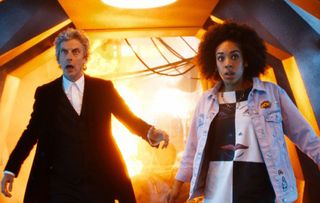 Doctor Who producer Steven Moffat says the question about the show's first gay companion should by 'What took you so long?' not Why?
Doctor Who show-runner Steven Moffat was surprised about the 'fuss' caused by the reveal that the Time Lord would have the show's first openly gay companion in the new series.
Actress Pearl Mackie, who plays the Doctor's latest sidekick Bill Potts, disclosed the detail about the character's sexuality in an interview with BBC News last week.
LGBT characters have featured in the popular series before, including John Barrowman's Captain Jack and River Song, but Bill will be the programme's first openly gay permanent companion.
Talking at a screening of the first episode at London's Ham Yard Hotel, Steven said: "When she did that interview we didn't know there was going to be all of that fuss. And in a way, there shouldn't be, that's kind of nonsense.
"So, just to be clear, we are not expecting any kind of round of applause or pat on the back for that, that is the minimum level of representation you should have on television and the correct response should be, 'What took you so long?'"
Last April it was announced that Pearl would star alongside Peter Capaldi's Doctor, replacing Jenna Coleman who played his previous companion Clara Oswald.
Steven chided the media for its reaction to the sexuality reveal as he referenced a group of schoolchildren sitting in the front row of the screening, saying the 'fuss stops now'.
He said: "It is important we don't make a big fuss of this in a children's show that communicates directly with children, you don't want young kids who regard themselves as normal and happen to fancy their own gender, we don't want to make them feel as if they are some kind of special case."
Jokingly, he added: "Because that's frightening and journalists – it is not your job to frighten children – it is my job."
The new series of Doctor Who – its 10th of the modern reboot – will be Peter's last in the lead role and Steven's final stint at the helm of the sci-fi spectacular.
Steven took over Doctor Who in 2010 and during his tenure the show has grown into a global success.
He recruited the 11th and 12th Doctors in Matt Smith and Peter and also added Karen Gillan as companion Amy Pond and Jenna as Clara Oswald to the crew.
Steven said it had been an 'amazing experience' to run the show, adding: "In terms of childhood wish fulfilment, I may have the record for the human race."
Peter will make his final appearance as the Doctor in the 2017 Christmas special.
Doctor Who returns to BBC1 on Saturday, April 15, with the first episode of series 10, The Pilot.
Get the latest updates, reviews and unmissable series to watch and more!
Thank you for signing up to Whattowatch. You will receive a verification email shortly.
There was a problem. Please refresh the page and try again.