The World's Top 10 BBC Characters REVEALED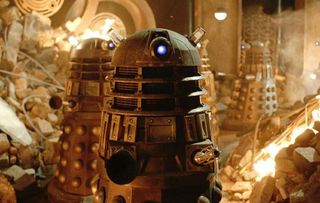 The BBC has conducted a comprehensive poll to find out which of their characters are the most popular OUTSIDE the United Kingdom...
Basil Fawlty, Hyacinth Bucket and the Vicar of Dibley are among the world's most loved BBC television characters, a survey has revealed.
BBC Worldwide polled more than 7,000 18 to 64-year-olds from seven countries including Australia, France, the US and Japan in the public vote, with Sherlock coming out on top.
Here are the top 10 of the world's most loved BBC characters.
1. Sherlock Holmes (Sherlock) 29.7%
2. The Doctor (Doctor Who) 17.6%
3. DCI John Luther (Luther) 12.4%
4. Basil Fawlty (Fawlty Towers) 11.8%
5. The Stig (Top Gear) 8.2%
6. Patsy Stone (Absolutely Fabulous) 8.1%
7. Edmund Blackadder (Blackadder) 7.4%
8. Hyacinth Bucket (Keeping Up Appearances) 6.1%
9. Geraldine Granger (The Vicar Of Dibley) 5.8%
10. The Daleks (Doctor Who) 5.6%
Get the latest updates, reviews and unmissable series to watch and more!
Thank you for signing up to Whattowatch. You will receive a verification email shortly.
There was a problem. Please refresh the page and try again.