Jim Carter and Phyllis Logan wonder about a Downton spin-off: Carsons' Guesthouse!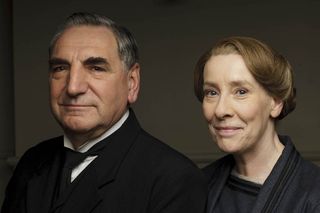 (Image credit: Nick Briggs)
From Ross and Rachel in Friends to John and Kayleigh in Carshare, we've always loved a will-they, won't-they TV romance. But few have been as glorious as the gentle union that has oh-so-slowly developed between starchy butler Mr Carson and firm-but-fair housekeeper Mrs Hughes in Downton Abbey.
Our hopes that romance would blossom have soared each time the couple shared a sherry and put the world to rights in Carson's room, but it was only after almost six series that he finally proposed last Christmas.
In Sunday's episode, it looks like they will at last tie the knot. TV Times talks to Downton's (opens in new tab) Mrs Hughes and Carson...
It's been a long process, so what's the key to Mrs Hughes and Carson's relationship?
Phyllis Logan: "It's the slowest burning romance ever, they've been approaching each other like tortoises on the Galapagos Islands!
"I'm glad it has been spread out because that understatement is effective as they are buttoned-up characters. It's lovely that these two lonely people are getting together because romance lies at the heart of Downton's appeal."
But things haven't always gone smoothly since the engagement. So will they finally make it up the aisle or will Downton's creator Julian Fellowes deny us a happy ending?
Jim Carter: "It's a case of 'If there's a wedding,' who knows what happens? But there would be blood on the streets and we would lynch Julian if we didn't get hitched, even if the viewers didn't! People have wanted us to get married since about episode two of series one. They enjoy that teasing relationship and especially that moment where we walked into the sea holding hands – the soppy romantics!"
Phyllis:"It's really touching they are so into it. You'd think they'd be more interested in Anna and Bates or Lady Mary than a couple of old fuddy-duddies like us. At the start, I never read romance into their relationship, but we must have done something in our portrayal to make people think it would be a good idea!"
So what's it been like to work together for the past six years?
Jim: "Phyllis is gorgeous and a great actress to work with. We laugh a lot, but we know when to be serious and she's always so 'on it' that it makes it easy. And I have a tremendous affection for her, so there's no acting required."
Phyllis: "Yes we always have a lovely time and with Lesley Nicol [cook Mrs Patmore] too, we're the triumvirate. It's just great to play with someone you know well and have a rapport with. Jim and I love our little tête-à-tête, because a lot of scenes are so quickfire with loads of you in the servants hall so it is good to have these 'proper' scenes."
So have those scenes been extra special for you?
Jim: "Those quieter, private moments are a treat and I'd have liked more of them because so much of what I do is so formal when he is on duty. So it's nice to relax and see behind the mask of this curmudgeonly stickler for tradition and find a romantic heart beating under there.
"Although we don't want to be too over-indulgent. You have to keep everything quite upright."
You must feel deeply sad that it's the end of Downton?
Jim: "Yes, all good things come to an end. We'll all miss it because it has been a big part of our lives for six years, but it is right that it finishes, it's always best to go when the party is still fun and leave people wanting more and I'm looking forward to doing new things."
How about a spin-off with Carson and Mrs Hughes running their much-mentioned B&B?
Jim: "Oh it could be I'm A Butler, Get Me Out of Here! Yes, we could have the Carsons' guesthouse. You're written it for us, thanks!"
Get the latest updates, reviews and unmissable series to watch and more!
Thank you for signing up to Whattowatch. You will receive a verification email shortly.
There was a problem. Please refresh the page and try again.