'Nancy is a role model' says EastEnders' Maddy Hill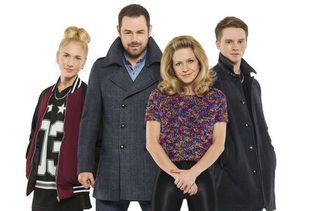 As EastEnders' Nancy Carter lashes out in The Queen Vic this week, TV Times talks to Maddy Hill about hopes and dreams for her troubled character, the return of screen brother Johnny, and how life has changed during her two years on Albert Square…
First things first – you've got a new Johnny! How is Ted Reilly settling into the cast, and are you disappointed that Sam Strike (who previously played Johnny) isn't returning?
"I literally just had my first scene with him! He's a lovely, chilled-out guy and he's taking it all in his stride, so I think he'll be absolutely fine. You have a lot of down time at work, so I managed to have a good chat with him and he's very sweet.
"I never expected Sam to come back; he's a very busy bee. It would've been lovely but I want what's best for him, and he's doing what he wants to do."
There's a big fight in the Vic this week between Nancy and Lee – what was that like to film?
"It was very carefully choreographed – you always have to have a stunt co-ordinator for scenes like this, and we have a guy called Ray, who is brilliant. As much as they look high-intensity, you have to rehearse and rehearse so that when you come to do it you don't have to think too much about the movement and can concentrate on the actual acting."
Nancy seems to be having a mid-life crisis, 20 years early – why is she finding life so difficult right now?
"As much as she resents it, she is very held back by her epilepsy. The reason she has had her job in the pub for so long and had to live with her parents is because of her condition – she needs to be around people that she trusts, so they can look after her if she has a fit. That is at the core of everything that is happening to her – she feels like she has totally outgrown her family and living situation but she can't break free because she can't have independence at this stage."
What would you like to see her do with her life?
"I think she needs to see different things. I'd love her to start a course or do something that takes her out of the square. I think she'd make a good mechanic – I can see her doing something with her hands; something physical and demanding. She's a role model for a lot of young girls, and I want those girls to feel like they can do whatever they put their mind to. There's still stigma attached to women doing certain jobs – that's why I'd like to see her do something quite male-dominated."
Viewers were disappointed when Nancy split up from Tamwar – would you like them to have a happy ending?
"I don't think marriage is necessary but I'd love them to get back together. But Nancy needs to work out how great they are for each other, and sometimes you need to be apart from someone in order to appreciate that. The things that happen to Nancy after breaking up with Tamwar show quite clearly how much he improved her life. She came in as a really hot-headed person and she really calmed down when she was with him and was happy to be a bit more vulnerable. She wasn't in fear of herself – which is what is happening to her now."
You recently notched up two years on EastEnders – how do you think Nancy has changed in that time?
"She seems to have come full circle - she came in kicking and screaming and now she's kicking and screaming a bit again! But everyone has flaws, and it's nice as an actor to have ups and downs with your character. It's very interesting for me, rediscovering that side of her, because she's been such a level-headed mediator for the last year or so."
How has life changed for you? Have you had to wave goodbye to anonymity?
"I don't want to be famous so I don't behave like I'm famous, so people don't treat me like I'm famous. It's very simple. I keep my head down - when I'm on public transport, I make sure my hair looks different, I listen to music and I pretend I haven't heard if someone calls my name! Obviously, if anyone approaches me then I'm very polite, but I think people can tell if you'd rather not be disturbed. The more time I spend in solitude – in a taxi or my car; not being out amongst normal, lovely people - the more I feel the negative affects of fame. Getting noticed used to really freak me out, but you find ways to not draw attention to yourself."
Who inspires you, and what are your ambitions, outside of EastEnders?
"Julie Walters is an incredible actress – she was my inspirtion to start acting. I haven't really thought about who I'd like to work with, but I do love British drama and film. I like our culture of saying one thing and meaning another!"
How do you chill out off set?
"I'm using a meditation app called Headspace at the moment – I meditate for about 15 to 20 minutes a day. Also, acting is about responding to the moment, and if you can stay in the present and not get distracted then you're more likely to respond organically to whoever you're in a scene with – so it works perfectly for opening up as an actor and being more vulnerable. I love it."
You recently become an ambassador for Rape Crisis. What does that involve?
"At the moment, I'm more of a figurehead, but if I get more time, I'd like to raise some money – maybe run on their behalf. They're an amazing charity and the work they do for people who have suffered sexual abuse is incredible - they worked a lot with EastEnders on the storyline about Linda's rape.
"We don't speak openly enough about sexual abuse in this country and that makes it much harder for victims to come forward when there is that taboo. I was surprised they didn't already have a celebrity ambassador, so thought that I could help in stopping that attitude, then that's where I can be most useful.
Thank you for signing up to Whattowatch. You will receive a verification email shortly.
There was a problem. Please refresh the page and try again.