Why Emmerdale star Gemma Atkinson's life 'is about strong coffees and lots of time on the M62'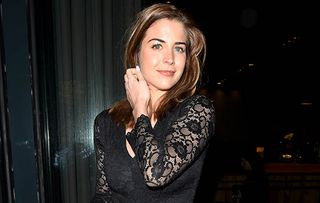 (Image credit: MCPIX/REX/Shutterstock)
Gemma Atkinson opens up about her food cravings, failings at yoga, psychic experience and why she's staying put in Emmerdale!
Although she looked sensational in a chic black outfit at a recent awards, Gemma Atkinson, who plays Carly Hope in Emmerdale, just loves her sweatpants and her trainers.
"I'm really tomboy-ey," she laughs as Soaplife chatted to her on the Emmerdale set. "What I have on now – something baggy, comfy and wearing trainers on my feet – is my perfect outfit. I'm definitely not a heels girl. But that doesn't mean that I don't like a night out – especially with the Emmerdale girls."
So you and your Emmerdale girlfriends go out on the town together… "Yes... when we get the chance! I actually had a meal out with the girls last night. But it can be difficult with filming commitments and it tends not to be at the weekend, when people who live away go home. We do always try to catch up whenever we can, though."
Is there a group ringleader? "Charley Webb (Debbie Dingle) sometimes has us over at her house. We had a psychic night at Charley's place a while back! We had a guy come in and he gave us all readings, which was really good."
Was that Tarot card readings? "Yes. We had one-to-one readings. He told Lucy Pargeter (Chas Dingle) that she'd have more babies. She was like, 'Nah! I don't think I will...' Then Lucy found out she was pregnant with twins! I'm not saying what I was told because it might not come true. But Lucy's has, so that's fine."
And we hear Roxy Shahidi (Leyla Harding) holds a lunchtime yoga class… "Yes. She holds it every lunchtime for anyone who wants to do it. She's great at it. We've all got our yoga mats. I do it, Charley does it, and Sam Giles (Bernice White) and Amy Walsh (Tracy) do it, too."
Do you enjoy yoga? "Amy's really good at it, but I can get a bit bored. I like it for about 15 minutes, then sometimes I'll go, 'No Rox. Go away. I just want to eat chips!' I'm not working out as much as I have done. I'm fortunate enough to have some gym equipment in my office at home and I'll work out there when I have the time and energy."
You've said that Emmerdale is the best soap you've ever worked on… What makes it so great? "It sounds really cheesy, but we're all like one big family here. The cast, the crew and everyone in the canteen is all on a group WhatsApp. Everyone just knows each other and we're always supportive and understanding of things. It's just like a really big group of friends. A lot of the time, you have little groups of people you see all the time and some who you just see now and again. But with Emmerdale, even if you're not working with someone, you're always still in contact with each other. So it's just a really nice, friendly place to work."
Are you anything like your character, Carly Hope? "Well, we're both really tomboyish and quite stubborn, but I'm more open about stuff than Carly is. Me, my mum and my sister talk about everything. And I've got five girlfriends I went to primary school with who are still my best friends. So I'm very fortunate. I have loads of people to chat to if I've got a problem."
Would you like Carly's past history to be explored more? "I would. A lot of stuff in her past is about her dealing with her grief over the death of her baby, Billy. Thankfully, I've not been in the same situation as Carly, but it spills out into other aspects of your life when you don't deal with grief."
Is it something you've encountered? "My dad passed away when I was only 17 years old and I went straight back to work at Hollyoaks. People were saying to me, 'What are you doing? You need to go home!' But I was like, 'No, no… It's fine. Let's just keep working.' Instead of dealing with it, you try to busy yourself. It was only months and months down the line when I went, 'Oh my God!' that it all came out. Essentially, that's what Carly's going through at the minute."
Do you plan to stay with Emmerdale for the foreseeable future? "Emmerdale really is one of those places where you could stay for ever. But I'm also one of those people who, when they get to a certain stage and everything's comfortable and good for them, thinks, 'Right, what can I do next?' I'm also loving doing my radio show at Key 103 in Manchester. That's really good fun and it's like hanging out with your mates. But then Emmerdale's the best, too."
So we won't be losing you to radio? "I'm very happy doing both and I feel very fortunate to be able to do so. At the moment, it's all about very strong coffees and spending lots of time on the M62."
Emmerdale, ITV
Get the What to Watch Newsletter
The latest updates, reviews and unmissable series to watch and more!