Emmerdale's Denise Black: 'Never in my wildest dreams did I think I'd move in with the Dingles!'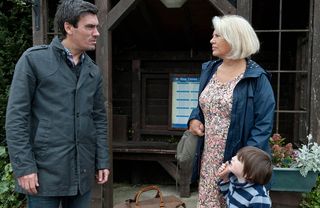 Denise Black returns to Emmerdale as Joanie, bringing Cain's son Kyle with her - and Cain's not happy!
Uh-oh. Cain's not happy to see his three-year-old son Kyle back in the village with his adoptive granny Joanie. Kyle's the result of Cain's one-night stand with Amy, Kerry's daughter, and Cain has made it clear he wants nothing to do with the boy. But Joanie needs cash and, with nobody else to turn to, she goes to Cain, who coughs up, but says he never wants to see her again.
"She comes back, though, after she gets mugged," says Denise. "Joanie's desperate. She doesn't have any other choice."
How is Joanie so broke?
"Joanie was a widow who was comfortable in a really nice house, but her late husband hadn't been paying his taxes, so the Inland Revenue has taken the house. She has lost everything. She's in temporary housing and is not equipped for it."
What makes her turn to Cain?
"She doesn't feel safe in temporary housing and goes to Cain [Jeff Hordley] because he's the only person who could bail her out. I suspect she wants to steer clear of the Pollards, who are also Kyle's adoptive grandparents, and Kerry [Laura Norton], Kyle's other granny."
And Cain does help…
"Yes, he meets her at the docks. She was hoping for £500, but he gives her a few hundred and says he never wants to see her again. Denise goes off with the money in her pocket, but she gets mugged."
And?
"She has to go to Emmerdale and eat humble pie. She turns up at the Pollards', but Val [Charlie Hardwick] says that only Kyle is welcome to stay with them. She ends up at the bus stop with Kyle, where Cain sees her. He's not happy as he gave her money on the understanding that there would be no further contact."
Does Joanie leave?
"No. While she's having a ding-dong with Cain, Zak [Steve Halliwell] and Lisa [Jane Cox] show up and they save her. They tell her that she can move in with them. Never in my wildest dreams did I think I would be moving in with the Dingles – I'm very happy about that!"
What will Joanie do in the village?
"She's got a child and she has been trying to survive on her own. You will see a transformation in her. It's not just about her and Kyle; this is a whole community she will be involved in. She needs a job, so she goes back to teaching, which is what she did before."
Are you pleased to be back?
"I'm thrilled. I thought I was going to be doing another series of Benidorm, but it didn't pan out and then the phone went and it was Emmerdale. It saved my bacon. My kids are grown up and travelling the world and I'm kicking my heels a bit and need to move on with my life. The call came in the nick of time. I have split working and mothering for all these years and now I can concentrate on work."
Emmerdale, ITV.
Get the latest updates, reviews and unmissable series to watch and more!
Thank you for signing up to Whattowatch. You will receive a verification email shortly.
There was a problem. Please refresh the page and try again.