Gemma Atkinson told Emmerdale bosses she didn't want Carly in skimpy clothes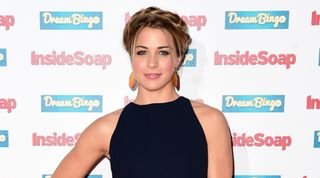 From the start Gemma Atkinson gave a red light to her Emmerdale character Carly Hope being a village vixen and baring the flesh.
During an interview with the Daily Star, the former lads' mags favourite revealed she'd asked bosses of the ITV soap to keep sexy outfits to a minimum.
"One of the first things I said to the producers when I joined was that I didn't want Carly to be sexy. I didn't want her to be in skimpy clothes. It's got to be a character viewers can relate to," she said.
Gemma Atkinson, Anthony Audenshaw and Lesley Dunlop in Emmerdale (ITV)
The 31-year-old added: "I wanted her to be just a normal girl. I think because I did the modelling, people assume that's what I'm like in real life. But I'm much happier in trackies and Converse than something skimpy. That's my go-to outfit.
"It's nice for me that Carly is very tomboyish. It means I get less time in make-up and I can wear warm clothes in the winter."
Gemma joined Emmerdale as the estranged daughter of Bob Hope (Tony Audenshaw) last year. Just like her dad, Carly has a string of failed relationships in her past.
Gemma Atkinson (Ian West/PA)
The role has won the 31-year-old actress a National Television Award nomination in the best soap newcomer category.
Gemma first found television fame for her four-year role as Lisa Hunter in Hollyoaks. She left the soap in 2005.
Speaking about the differences between Channel 4′s Chester-set programme and ITV's rural soap, she said: "It has a different age group. It's people from my age to pensioners. With Hollyoaks it was teenagers."
Get the latest updates, reviews and unmissable series to watch and more!
Thank you for signing up to Whattowatch. You will receive a verification email shortly.
There was a problem. Please refresh the page and try again.