'My new role is dark and dangerous!' says Jason Merrells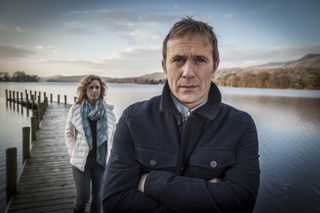 Jason Merrells tells Soaplife that his new crime drama, Safe House, is every bit as dramatic as his time in Emmerdale…
Emmerdale's Home Farm is a place where dark dramas happen – and we still miss the very dark Declan Macey. He disappeared from the Dales last October and Jason Merrells, who was brilliant as the dastardly Declan, has also moved on, now starring in ITV's Safe House.
"But I'm constantly recognised in the street as Declan," Jason tells Soaplife.
What's Safe House about?
"It's a four-part thriller set in the beautiful wilderness of the Lake District. A couple are asked by the police to turn their remote B&B into a safe house for people who need protection."
What's your role?
"I play a prison officer called David Blackwell. He's in his second marriage to Ali [Nicola Stephenson] and has a teenage daughter and an older son at university from his first marriage. Ali has a young son called Joe."
And David's family needs the Safe House?
"Yes. A man tries to snatch young Joe when the family is enjoying a game of crazy golf in Blackpool, and David is brutally attacked. The attack comes out of nowhere and the family is put in the safe house because of it."
So… another dark and dangerous role?
"Yes. It's quite a shock for David and his family to suddenly be taken away from their life and everyone they know. David's not in a good place - he feels robbed of his role as a husband and father and he clashes with ex-copper Robert [former Doctor Who star Christopher Eccleston], who runs the safe house with his wife [Marsha Thomason, Playing the Field]."
The Lake District can create its own drama, too, right?
"Absolutely. I think the Lake District is a character in itself – and an unpredictable one. We were battling with the elements – sleeting rain, wind, mist - the whole way through filming."
Do you like the Lakes?
"It's a lovely part of the world. I've spent a good many holidays there and I walked up Scafell Pike with my eldest daughter when she was 15. We did that ascent in the same way you see my character David walk it in Safe House. Only it was much better weather when my daughter and I did it."
So you have no regrets about leaving Emmerdale?
"It was never going to be a job for life and I stayed way longer than I thought I would. I really enjoyed it and made some great friends but I was living 200 miles away from my family and my home. After a while you think, 'As much as I love the work, I don't want this forever'. It was the right time for me to leave."
Get the latest updates, reviews and unmissable series to watch and more!
Thank you for signing up to Whattowatch. You will receive a verification email shortly.
There was a problem. Please refresh the page and try again.