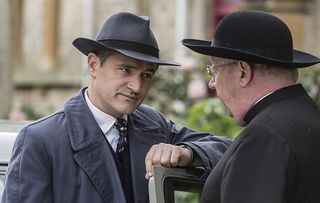 (Image credit: BBC Studios/Gary Moyes)
Sleuthing priest Father Brown is soon on the case when a man suspected of killing a police officer is seen near Kembleford
When a fugitive murderer is spotted at a nearby cottage, Inspector Mallory and Sergeant Goodfellow are soon on the case.
But as they search the property, a gun is fired and Goodfellow leaps to save Mallory's life.
With both men in hospital, Father Brown steps in to investigate.
A familiar face also returns – Inspector Sullivan (Tom Chambers), who suspects things are not what they seem.
TV Times rating: ****
TV Times has been invited behind the scenes of this Tuesday's episode, The House of God, and we're hoping to get clues about the plot…
As we look around, we see the crowds outside St Mary's church are clad in 1950s finery. The women are in big hats, the men in best suits, while Father Brown's vestments have never looked so resplendent.
'I'm afraid I can't tell you what's going on!' declares Mark Williams, 59, who plays him. 'All is not what it seems. It looks like it's going to be obvious and it's not.
And there's a wedding in this episode. In fact, there are two!' Armed with this small clue, TV Times investigates further…
International Appeal
It's hard to believe, but the show has clocked up 80 episodes since it launched in 2013.
Father Brown's congregation extends beyond Blockley – the real-life Cotswold village that doubles as fictional Kembleford – to a peak of 2.3m viewers in the UK, and more than 150 countries including the US, Australia and Canada.
As if to confirm that global appeal, a gaggle of Italian reporters have just arrived to interview Mark, asking if he ever thought the show would do so well…
'We didn't,' he says. 'But then, I remember asking Harry Potter producer David Heyman whether he expected to make all eight Potter films. He said, "No!" You set out with hope and good storytelling. And I think we're very good at that.'
One of the key things about Father Brown is the variety. Last week's run of episodes had a train robbery and a haunted house, while this week we have anarchist actors, suspicious ramblers and a dangerous turn of events for Sergeant Goodfellow.
John Burton, who plays the detective, says the vibe on set is unusually warm for a TV show, partly because many of the background artists are locals who return year after year – even the vicar has had a cameo.
'It's like one big happy family, and I think that transmits to the viewers,' reveals John, 51. 'It's challenging when there are lots of people about, but these guys make Kembleford what it is. They're part of the village.'
Catholic Conversion
Today's wedding story is one of the biggest set pieces to date.
There are 140 cast and crew on set, with over 40 supporting artists; the wardrobe department started at 7am to get them all dressed in vintage outfits.
The church is quicker to prepare. The art department has created a kit that converts it from 2019 Anglican to 1950s Roman Catholic.
'We've put in a confessional box and the Stations of the Cross, as well as some statues, crosses and candles,' explains standby art director James Darnbrough.
'Today it's mainly flowers, which will be left for a real wedding tomorrow.'
The service is about to begin, so we cram into a pew to wait for the bride. 'Welcome,' Father Brown intones, as she finally arrives and pulls back her veil to reveal...
Oh dear, we've run out of space – you'll have to tune in on Tuesday, when the mystery will be solved!
Get the latest updates, reviews and unmissable series to watch and more!
Thank you for signing up to Whattowatch. You will receive a verification email shortly.
There was a problem. Please refresh the page and try again.