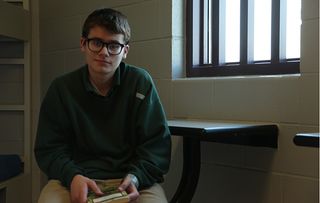 Kid Criminals is sad and hard to watch, but not without hope.
'I know right from wrong,' explains Garrett Clutter, 15 [pictured]. 'It's just that I choose to do wrong.'
Garrett is in a unit for sex offenders at endleton Juvenile Correctional Facility in Indiana.
Among the staff at Pendleton is no-nonsense but gentle and insightful counsellor Tammi Prince, and watching her at work as this two-part documentary (first shown on C4 in 2015) begins is amazing.
We also meet William McConnell, 18, a repeat offender unhappy at facing another birthday inside, and Tavarius McNair, 14, who is on the verge of a breakthrough in his counselling sessions with Tammi.
Sad and hard to watch, but not without hope.
Get the latest updates, reviews and unmissable series to watch and more!
Thank you for signing up to Whattowatch. You will receive a verification email shortly.
There was a problem. Please refresh the page and try again.