Spider-Man: Into the Spider-Verse - Sky Cinema Premiere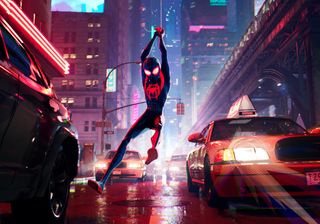 (Image credit: Sony Pictures Animation)
A dazzling animation featuring different versions of our favourite web-slinging superhero in parallel universes. 4/5 stars
Spider-Man is Marvel's most popular superhero for a good reason. The geeky teen-turned-friendly neighbourhood crimefighter really is relatable. He worries about girls and homework as much as he does about saving the city. He isn't a cocky billionaire inventor who built himself an iron suit; or a neurotic billionaire vigilante who dresses up as a bat, for that matter. He happened to get bitten by a radioactive spider. He could be anyone.
Steered to the screen by Phil Lord, one half of the team behind The Lego Movie, this Oscar-winning animated movie takes that notion and runs with it.
The first surprise is a fresh everyman hero in the shape of Afro-Hispanic Brooklyn teenager Miles Morales (voiced by Shameik Moore), who has his own encounter with a radioactive spider while spraying graffiti in an out-of-bounds corner of the New York subway. Sure enough, the spider's bite gives him Spider-Man-like superpowers.
He also has an encounter with the 'real' Spider-Man (Chris Pine), here older and wearier than the version we're accustomed to, and hard at work trying to foil plans by super-villain Kingpin (Liev Schreiber) to access parallel universes by means of a giant particle accelerator.
Alas, he fails to prevent the super-collider from unleashing a bunch of other web-slingers from alternative dimensions, notably a jaded, run-to-seed, 38-year-old Spider-Man (Jake Johnson), Spider-Woman, aka Miles' schoolmate Gwen Stacy (Hailee Steinfeld), Japanese-American schoolgirl Peni Parker (Kimiko Glenn), a hard-bitten Spider-Man Noir (Nicolas Cage) and even a porcine hero, Spider-Ham (John Mulaney) - each of them with their own distinctive style of animation.
Sound confusing? It isn't. The film positively zips along, playfully amusing, visually ingenious, and as readily engaging as the hero at its heart.
Get the latest updates, reviews and unmissable series to watch and more!
Thank you for signing up to Whattowatch. You will receive a verification email shortly.
There was a problem. Please refresh the page and try again.