Big Sky season 3 episode 11 recap: shifting relationships raise questions
Big Sky season 3 returns with a dark episode.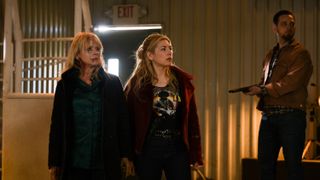 (Image credit: ABC/Anna Kooris)
NOTE: this post contains spoilers for Big Sky season 3 episode 11, "Super Foxes".
Big Sky is back after a long holiday hiatus with a new and very dark episode, "Super Foxes." There are also two notable guest stars in this episode, with Rosanna Arquette playing Hoyt's con artist mother Gigi, as well as Lyle Lovett showing up in a small guest appearance.
When the episode opens Hoyt (Katheryn Winnick) finds her mother Gigi, who has broken into her home, crying and bloody. Hoyt confronts her mother, demanding back $30,000 that Gigi stole from her. Gigi confesses she laundered the money and now some people are after her.
Hoyt isn't sure she believes her mother's story but decides to take her to jail until she can sort things out. Gigi panics when there's a knock at the door, worried someone has come to get her. As Hoyt goes to the door it is smashed open, hitting Hoyt in the head and knocking her unconscious. The men who broke in take Gigi.
Paige can't catch a break
Paige (Madalyn Horcher) is still trapped in the attic as Buck (Rex Linn) tries to get rid of Cassie (Kylie Bunbury) at the farmhouse. Buck tries to maintain his gentle cowboy demeanor, but it's slipping. He keeps ominously gesturing with a big knife and Cassie knows it's a threat.
In the attic, Paige looks for some way to get Cassie's attention. She manages to knock over a lamp, but it's too late. Cassie is out the door after she gets a call for help from Hoyt.
Buck hears it though and he's very angry with Paige. He pours a drink, telling Paige it's his first drink in 20 years because Sunny has kept him sober. Taking the drink is another sign Buck has reached a breaking point with Sunny. Buck then knocks Paige out by slamming her head into the table.
Later, Sunny (Reba McEntire) runs into Buck as she is coming home. She was out all night, held captive by Tonya (Jamie-Lynn Sigler) and Donno (Ryan O'Nan) after Paige disappeared. They have a tense exchange, clearly not trusting each other. Buck says he has to take care of something then they'll sit down and have a long talk.
What Buck has to take care of is Paige, who is unconscious, wrapped in a tarp in the back of his truck.
He takes Paige to a secret location that appears to be a murder bunker. There are trophies from other kills around the room. Paige fights and manages to knock Buck out and escape, but it seems like Buck is the Bleeding Heart killer and he's about to be active again.
Hoyt attempts a daring rescue
After Hoyt gets medical attention, Pops (J. Anthony Pena), Cassie, Arlen (Jensen Ackles) and Hoyt track down her mother's partner in crime, which leads them to a deceptively tranquil looking farmstead. The property looks undeveloped except for a small cottage. Cassie and Hoyt knock at the cottage door to find the owner of the property, Anne Whitlow (Jayne Taini). She seems like a friendly old lady, but that's an act.
Whitlow is the matriarch of a cultish clan living in seclusion on the property. Her sons and their families run her crime organization. Gigi and her partner screwed over one of Whitlow's sons, who ended up committing suicide. When Hoyt finds Gigi she is being held captive in front of an audience of children who live on the property while Whitlow's sons and Anne decide how to kill her.
One of the children suggests a game should be played to decide Gigi's fate. If she wins the game she lives. If not, she dies. Anne takes things further and says that Hoyt and Gigi should play each other. Whoever loses, dies.
Both Hoyt and Gigi try to throw the game so the other can live. It's a tense game but Gigi loses. But as one of the Whitlows is aiming a gun at her, Anne suddenly stops the game and tells her sons to let Hoyt and Gigi go.
Cassie had snuck into the building from the back and had a gun on Anne to force her to let Hoyt and Gigi go before they were killed. The Whitlows all surrender. Hoyt doesn't give her mother a pass though, and Gigi also goes to jail for her crimes.
Avery makes a deal for safety
Arlen goes to find Avery (Henry Ian Cusick) after Carla (Angelique Cabral) expressed her concerns about him. He arrives just as Avery is being kidnapped by Mr. Jimmy's hired henchmen. Arlen kills the thug and frees Avery. But later Avery ends up the hostage of Tonya and Donno, who want the money.
Donno keeps threatening to torture Avery, but Avery wants to make a deal instead. He tells Tonya he's got the money in a secure account. He offers them a portion to keep him safe. Tonya takes the deal.
It may be too late for Avery to keep Carla and Emily (Cree Cicchino) safe though. Mr. Jimmy approaches Emily in the café, and his new henchman, played by Lyle Lovett, follows Emily as she leaves.
Loyalties are shifting
Key relationships are shifting. Carla is getting close to Arlen again, after he confesses he will always love her and opens up about what happened in Texas. Meanwhile, Cormac (Luke Mitchell) is pulling away from Sunny, unwilling to forgive her for keeping Walter (Seth Gabel) a secret. Plus, Sunny knows Buck is changing. Does she also know he could be the Bleeding Heart killer? Will she protect him if he is?
Things are about to get dark as the threads of this web start to come together.
New episodes of Big Sky season 3 air on Wednesdays on ABC in the US. Season 3 episodes are also releasing weekly on Disney Plus in the UK.
More on Big Sky
Get the latest updates, reviews and unmissable series to watch and more!
Sonya has been writing professionally for more than a decade and has degrees in New Media and Philosophy. Her work has appeared in a diverse array of sites including ReGen, The Washington Post, Culturess, Undead Walking and Final Girl. As a lifelong nerd she loves sci-fi, fantasy and horror TV and movies, as well as cultural documentaries. She is particularly interested in representation of marginalized groups in nerd culture and writes reviews and analysis with an intersectional POV. Some of her favorite shows include Game of Thrones, The Walking Dead, The Handmaid's Tale and The Sandman.
Thank you for signing up to Whattowatch. You will receive a verification email shortly.
There was a problem. Please refresh the page and try again.