Cliff Parisi on Fred Buckle in 'Call The Midwife' — 'Filming the World Cup scenes was great fun!'
Cliff Parisi on celebrating the World Cup as Fred Buckle in Call the Midwife.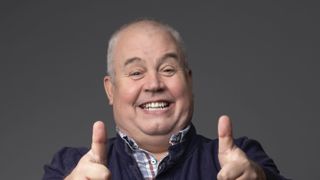 (Image credit: (C) Nealstreet Productions - Photographer: Laura Radford)
Cliff Parisi's Fred Buckle is definitely buckling up! World Cup fever is hitting Poplar as Call the Midwife 2021 reaches the summer of 1966. While Bobby Moore and the England team great up for success on home turf, the nuns and midwives take part in a sweepstake as the football tournament heats up. Meanwhile handyman-turned-newsagent Fred Buckle, played by Cliff Parisi, makes a gamble of his own...
We caught up with Cliff Parisi, who plays Fred Buckle, to find out more...
Cliff Parisi on what Fred Buckle is up to during the World Cup?
"Fred Buckle and Reggie [Fred's surrogate son played by Daniel Laurie] have had the shop done up and they've got football cards and flags and are very excited. But Fred does something controversial when he puts on a bet. When England wins, it's a bittersweet victory…"
Cliff Parisi on filming the World Cup scenes when everyone watches the final...
"Yes, we weren't watching the match for real, someone would just shout, 'Goal!' but it was great fun! We always have fun filming Call The Midwife, it's a jolly crew and cast, so any time there's a celebration, it's great having silly hats, party wheezers and balloons. But we couldn't eat any of the food because of COVID, so it's all just there for show!"
So does Cliff Parisi remember the 1966 World Cup?
"I was only six and my dad wasn't a great football fan but I remember the songs and the excitement at school, although I don't remember the games. I'm a West Ham fan though and we call it the 'West Ham World Cup' because there were so many West Ham players in that squad. We claimed it as ours! I was lucky enough to work with Bobby Moore, Martin Peters and Sir Geoff Hurst [the West Ham stars who played in the England team] years ago on [1991 ITV comedy drama] Going to the Dogs, which was fantastic."
Cliff Parisi on watching Euro 2020 this summer...
"Of course! I'll be cheering on England, even though we don't stand a chance. We've only got about two midfielders and if one of them's sick we've had it! But you never know."
Cliff Parisi on seeing Fred Buckle run the newsagents this year?
"Yes, he still does bicycle fixing too but he's settling in at the newsagents. He gives loads of stuff away though, he's like me, not a good businessman. They'll go bust!"
You've been in Call the Midwife from the start, what has that meant to you?
"I love this job and to have had it for 10 years is amazing. I get lovely storylines and the writing's fabulous. People love the show and we have loyal fans around the world, so it's an honour to be in it. All I need now is to be in another popular show for the other six months of the year. I'd love my own cop series!"
Where can I watch Call the Midwife?
Cliff Parisi and Fred Buckle's part in the World Cup episode of Call the Midwife can be seen on BBC iPlayer in the UK. In the US, PBS will air the 10th series from September 26.
Get the latest updates, reviews and unmissable series to watch and more!
Caren has been a journalist specializing in TV for almost two decades and is a Senior Features Writer for TV Times, TV & Satellite Week and What's On TV magazines and she also writes for What to Watch.
Over the years, she has spent many a day in a muddy field or an on-set catering bus chatting to numerous stars on location including the likes of Olivia Colman, David Tennant, Suranne Jones, Jamie Dornan, Dame Judi Dench and Sir Derek Jacobi as well as Hollywood actors such as Glenn Close and Kiefer Sutherland.
Caren will happily sit down and watch any kind of telly (well, maybe not sci-fi!), but she particularly loves period dramas like Call the Midwife, Downton Abbey and The Crown and she's also a big fan of juicy crime thrillers from Line of Duty to Poirot.
In her spare time, Caren enjoys going to the cinema and theatre or curling up with a good book.
Thank you for signing up to Whattowatch. You will receive a verification email shortly.
There was a problem. Please refresh the page and try again.