Dolly-Rose Campbell — things you didn't know about the Coronation Street star
Dolly-Rose Campbell has been a lifelong fan of the soap she stars in, but what else is there to know about her?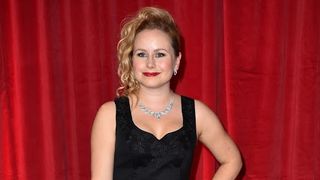 (Image credit: Getty)
Dolly-Rose Campbell burst onto our screens as Coronation Street motormouth Gemma Winter in 2014 and since then has become one of the soap's most popular characters.
With her street-wise sass and a gob bigger than Blackpool tunnel, mum-of-four Gemma is a complete force of nature who has no qualms rubbing people up the wrong way. And her garish fashion sense is all kinds of wrong, in an endearing, bonkers kind of way. However, Manchester born and bred, Dolly-Rose couldn't be more different from her brash alter-ego.
Here are a few things you may not know about her…
Dolly-Rose Campbell has always been a huge Coronation Street fan
Landing the role of Gemma was a dream come true for Dolly-Rose, who's been a lifelong avid viewer of Corrie. And in a twist of fate, she went on a public tour of the world's most famous cobbles just before she got the call to say she'd be stepping onto them as a cast member.
Recalling the experience to The Sunday Post Dolly-Rose said: "I'd had an audition before the tour but I wasn't expecting anything. While we were walking around my friend said, 'Imagine if you got a job on it' and I was saying that would never happen. Just a couple of days later I got a call saying I had the part."
Originally, the part of Gemma, who was an old mate of Kylie Platt's, was only supposed to be for six episodes, but seven years later she's still going strong on the Street.
She became an actress by chance
Dolly-Rose has admitted she hadn't always considered a career in acting. When she was 15, she used to meet her friend at a youth theatre in Bolton. Stepping onto the stage was instant love for the teenager, and after finishing school, Dolly-Rose studied her craft at Manchester's Arden School of Theatre. Like thousands of others, she became a jobbing actress, never daring to believe she'd be able to make a real decent living from it.
Coronation Street is her first major acting role
Other than a one-off role in an episode of BBC continuing drama, Doctors, Dolly-Rose had mainly done radio work before getting her big break on Corrie. Being part of one of the nation's biggest shows was daunting for the young star, but luckily help was on hand from the highest of places.
Coronation Street veteran Barbara Knox, who's played stalwart Rita Tanner since 1972 offered Dolly-Rose expert advice on how to act in front of the camera. The pair had already met when Dolly-Rose approached Barbara in the café she was working in and told her she had a role on the soap. A year later, the actors filmed their first scene together and Dolly-Rose was chuffed that Barbara had remembered her.
She's got a secret hobby that you wouldn't expect!
The lines are often blurred between actors and their on-screen characters, but Dolly-Rose insists she's very different to Gemma in real life. While Gemma causes mayhem wherever she goes, the Corrie star has said she loves nothing more than chilling out with her pet dog. Dolly-Rose also enjoys crafting in her spare time – particularly knitting and sewing. We can't imagine Gemma being a dab hand with a needle and thread. Although if she was, they'd surely be a job on offer at Underworld.
She's not always been an actress
Gemma is no stranger to working behind a bar after landing herself a job at The Rovers Return before she had her babies, and Dolly once told us that she already knows her way around a beer pump: "I've worked behind a bar in real life, it was before Coronation Street when I worked in radio. I did hospitality and bar work."
She's a big art fan
While she's not acting (or knitting!), Dolly-Rose is also a self-proclaimed art lover and is even a custodian at the Islington Mill, an independent arts hub in Salford, Manchester. She can often be found talking about art on Instagram and even shares pictures at art events with former Coronation Street co-star and fellow art lover Connor McIntyre, better known as cobbles killer Pat Phelan.
She's scooped two comedy awards
Gemma's hilarious antics and witty one-liners have provided the viewers with plenty LOL moments. Dolly-Rose's impeccable comedic timing was honored in 2017 when she won Best Comedy Performance at The British Soap Awards.
The victory came as something of a surprise for Dolly-Rose who admits she didn't expect her name to be called out: "It was a big shock and all I had in my head was people that I couldn't forget to thank. I remember standing on stage looking at everybody off the telly and being really freaked out and then walking off and seeing one of our crew standing in the wings," she told us at the time. Then just a few months later the actress was rewarded again by picking up the Funniest Female gong at the Inside Soap Awards. Bravo!
She based the Gemma on people she knows
Although she's definitely entertaining, feisty Gemma is rather a handful to deal with – just ask her long-suffering boyfriend Chesney! During a chat with ITV's Lorraine, Dolly-Rose admitted she actually based her brash character on people she knows in real life.
Revealing her affection for Gemma, the actress said: "I think she's brilliant, I really like her! I bring things to her that are based on people I know. Some of the things she does, or the way she would do stuff, is stolen from people. But I never tell them who I've stole what from!"
Coronation Street has changed her fortunes
Gemma and Chesney have been struggling to make ends meet in Corrie, which is something Dolly-Rose can completely identify with. Whilst trying to pursue her dream of being an actress, Dolly worked a number of jobs – as a pizza chef, bar staff, and in a cafe and was often so cash-strapped she had to choose between eating or keeping warm.
In an interview with The Mirror she said: "I never really had any money ever. If I ran out I had to choose whether to put money on the gas or buy food. I've always had to watch every penny." But landing her job on Coronation Street has enabled Dolly-Rose to get onto the property ladder. She shares: "I've moved into a nice house with a garden and I've got a car and occasionally I think 'whose life am I living?' This is not where I expected to be and I just feel really grateful every day."
Dolly-Rose Campbell's Fact File
Answers to the most frequently asked questions about the Coronation Street star...
How old is Dolly-Rose Campbell?
Dolly-Rose Campbell is 34, she was born on 12th April 1987
Is Dolly-Rose Campbell married?
Dolly Rose Campbell is not married.
Does Dolly-Rose Campbell have any children?
Dolly-Rose does not have any children.
Where was Dolly-Rose Campbell born?
Dolly Rose was born in Salford, Greater Manchester.
How tall is Dolly-Rose Campbell?
Dolly-Rose is 5 feet tall.
Instagram: @dolly_rose_campbell (opens in new tab)
Coronation Street now airs hour-long episodes on Mondays, Wednesdays and Fridays at 8 pm on ITV — see our TV Guide for full listings. You can also catch up on episodes on ITV Hub.
We work hard to ensure that all information is correct. Facts that change over time, such as age, will be correct, to the best of our knowledge, at the time of the last article update.
Laura has been a journalist for over a decade, writing about soaps, TV entertainment, fashion, beauty, and food. After graduating from university, she started her career working at a national soap and TV magazine. During her seven-year stint there she joined the cast of Emmerdale for a tour around the famous village, partied with soap stars at awards bashes, interviewed her acting idol David Suchet, and sat in the front row of Strictly Come Dancing.
Her heart lies with the soaps, and her all-time favourite character has to be EastEnders' Pat Butcher - no one rocked a big earring quite like her. She's also a huge fan of detective crime dramas, particularly old school Inspector Morse, Endeavour, and adaptations of Agatha Christie's Marple and Poirot. When she's not writing, she loves a spot of second-hand shopping and going on adventures with her young son.
Get the latest updates, reviews and unmissable series to watch and more!
Thank you for signing up to Whattowatch. You will receive a verification email shortly.
There was a problem. Please refresh the page and try again.