Fact vs Fiction: Godfather of Harlem season 3 episode 2 — who is Jose Battle?
Plus, did he make an alliance with Bumpy Johnson?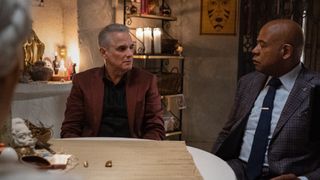 (Image credit: Metro-Goldwyn-Mayer Studios Inc.)
After watching Godfather of Harlem season 3 episode 2, you now know that Joe Colombo (Michael Raymond-James) is not the only new face on the show this season. The second episode marked the introduction of Bumpy Johnson's (Forest Whitaker) new partner in crime, Jose Miguel Battle (Yul Vázquez).
While in the series Battle is shown as this calm Cuban kingpin of Spanish Harlem who dibbles and dabbles in a number of illegal businesses including arms dealing, does the portrayal ring true to who he was in real life?
Here's everything we know about Jose Miguel Battle.
Who is Jose Battle?
The fiction
When Godfather of Harlem fans are introduced to Battle, it's in his base of operations. Johnson pays him a visit out of a desperate need to find an alliance having turned down Colombo's continued overtures. Johnson correctly assumed that by turning Colombo down a war would begin brewing between the Italian mafia and Johnson's operation, so the latter hoped Battle would abandon his own allegiance with the Italians and form a partnership with the Godfather of Harlem.
Initially, Battle turned Johnson down after consulting his Santería advisor. However, after seeing Johnson declare to the Five Families that he refused to be a "lion put back in his cage" after tasting what it's like to have some control, Battle had a change of heart. The Cuban immigrant agreed to begin a partnership with Johnson, making quite the duo for the season. It's yet to be seen if their working relationship will prove fruitful or disastrous.
The fact
Now in real life, the story of Jose Miguel Battle, aka El Padrino (The Godfather), is quite interesting. As reported in the Chicago Tribune (opens in new tab), he ironically started out with a career in law enforcement as a vice cop in Havana, Cuba, under the Fulgencio Batista regime. Then after Fidel Casto overthrew the Batista government, Battle fled the country and was recruited by the CIA to help carry out the historical disaster known as the Bay of Pigs. When the American plot to remove Castro from power didn't work, Battle found himself sitting in a Cuban prison for two years.
Following his release from confinement, Battle reinvented himself in New Jersey, according to BBC News (opens in new tab). It was there he began his illegal gambling operation and launched the very popular, but illegal, lottery racket known as bolita. His success eventually saw him spread his business to New York City, where he and his soldiers became known as The Corporation. The Corporation would eventually get into the drug trafficking game and earned a deadly reputation in the underworld. By the '70s, Battle's crime syndicate was making an estimated $45 million a year across New Jersey, New York and Florida.
Like any kingpin, Battle also had his brushes with the law. In 1977, a Miami-Dade court in Florida convicted him of murder conspiracy and solicitation, a conviction that was later overturned on appeal. Then in 2004, as stated by The US Department of State (opens in new tab), he was arrested on various charges ranging from money laundering to illegal gambling to contract killings. He would eventually plead guilty to racketeering conspiracy charges (opens in new tab) in 2006. He died in 2007.
What was Jose Miguel Battle's connection to Bumpy Johnson?
It appears that the onscreen representation of Johnson and Battle's relationship is a bit fabricated. We were unable to find documentation to confirm the two were even acquaintances, let alone business partners.
Now as far as Battle's dealings with the Italian mafia, that's a different story. As previously stated, Battle and The Corporation was once making a lot of money. Author of The Corporation: An Epic Story of the Cuban American Underworld (opens in new tab), T.J. English, told National Public Radio station WUSF (opens in new tab) that The Corporation became so rich and powerful in part due to its relationship with the New York mafia.
That relationship deteriorated over the years because, as again reported by the BBC, in the early '80s, Battle and his soldiers were entrenched in a bloody war with the Luccheses, one of New York's five mafia families. The conflict between the two factions resulted in dozens of people dying in more than 120 fire bombings, according once more to the Chicago Tribune.
Godfather of Harlem season 3 episodes continue to air on Sundays on the new MGM Plus. Also read our Fact vs Fiction for The Godfather of Harlem season 3 episode 1.
Get the latest updates, reviews and unmissable series to watch and more!
Terrell Smith has a diverse writing background having penned material for a wide array of clients including the federal government and Bravo television personalities. When he's not writing as Terrell, he's writing under his pseudonym Tavion Scott, creating scripts for his audio drama podcasts. Terrell is a huge fan of great storytelling when it comes to television and film. Some of his favorite shows include The Crown, WandaVision, Abbot Elementary and Godfather of Harlem. And a fun fact is he's completely dialed into the TLC 90 Day Fiancé universe.
Thank you for signing up to Whattowatch. You will receive a verification email shortly.
There was a problem. Please refresh the page and try again.