Fact vs Fiction: Godfather of Harlem season 3 episode 1 — did Bumpy Johnson know Joe Colombo?
Plus, did Malcolm X travel to Africa in the 1960s?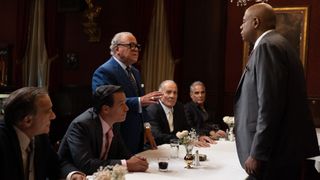 (Image credit: Metro-Goldwyn-Mayer Studios Inc.)
Many of Godfather of Harlem season 3 viewers find themselves wondering about the nature of the real Bumpy Johnson's relationship with the Italian mafia of New York.
In the first two seasons, Forest Whitaker's Bumpy Johnson was locked in a dangerous rivalry, sometimes allegiance, with Vincent D'Onofrio's Vincent "Chin" Gigante. Now in season 3, it appears that the onscreen Johnson has a new nemesis in Joe Colombo (Michael Raymond-James). Colombo has stepped in to fill the void left by Gigante's stint in prison awaiting trial.
With all that said, and tensions rising once again in the show, we decided to determine as best as we can the real relationship between Johnson, Gigante, Colombo and the Italian mafia. We're also looking into the much-talked-about trip of Malcolm X (Jason Alan Carvell) to Africa in episode 1. Was that onscreen pilgrimage routed in fact or fiction?
Well, without further delay, here's what we know.
Did Bumpy Johnson know Vicent Gigante?
Before we jump right into the season 3 "Big Bad," Joe Colombo, let's talk about the relationship between Bumpy Johnson and Vincent Gigante. From the information we were able to gather, it seems likely the two knew each other in real life, but weren't quite the rivals the series leads the audience to believe.
For starters, Johnson's connection to the New York Italian mafia was solidified with the architect of the Five Families, Charles "Lucky" Luciano. As reported in Time (opens in new tab), in the 1930s, Johnson and Luciano had a common enemy in underworld giant Dutch Schultz. When Schultz was murdered, his death oddly bonded Johnson and Luciano into a working alliance. The kingpins may have even been friends if Johnson's great-grandson Raymond Anthony Hatcher Johnson (opens in new tab)is to be believed, as the two did play chess outside of the YMCA on 135th Street.
Garnering the respect of Luciano would cement a relationship between Johnson and the Italian mob for years to come. We say that to say, Johnson and the New York Italian mafia were in business together. Here's where things get tricky as it pertains to his dealings with Gigante.
In the series, Gigante is presented as a boss of the Luciano/Genovese family in the '60s with a tumultuous back-and-forth with Johnson, filled with war and occasionally business. However, according to The New York Times, Gigante was not firmly in that leadership role until the 1980s. Johnson died in 1968.
Now is it possible the two knew each other well enough to be adversaries in the '60s while Gigante rose up the ranks? Certainly. But as stated in Time, there is not much documentation on the two's dynamic.
Did Bumpy Johnson know Joe Colombo?
If you've watched any good documentaries on the American-Italian mafia or recently viewed Paramount Plus' The Offer, then you've heard of Joe Colombo. In Godfather of Harlem season 3, he's portrayed as this no-nonsense mobster who goes after what he wants, often defying the unwritten codes of ethics in the underworld. He's also "filling in the gap" for Gigante, who's in prison, and has his eyes set on Johnson's territory in Harlem. Understandably that's causing some drama on the show, but is this onscreen tension based on factual events?
To be clear, in real life, Colombo was never a member of the same crime family as Vincent Gigante. As stated in The New Yorker (opens in new tab), Colombo started working for the former Profaci crime family before eventually being handed the reigns of the syndicate and renaming it the Colombo Family. The series doesn't make the point of definitively distinguishing Colombo's role as the head of his own family (and not a member of the Gigante crew) until a little later in the season.
As far as Colombo's relationship with Johnson, this is again a situation where there is not much documentation on the matter. However, given Colombo came to power in the '60s while Bumpy was also running things in his section in Harlem, it's very possible that they crossed each other's paths.
Did Malcolm X go to Africa?
To kick off Malcolm X's season 3 storyline in the Godfather of Harlem, much has been mentioned about a trip to Africa. It turns out, this is a trip that is grounded in facts.
As reported by Columbia University's Malcolm X Project (opens in new tab), in 1964 the Civil Rights legend took two trips to the continent of Africa. During one of those occasions in particular, he went to Cairo, Egypt, and spoke to the heads of 33 independent African nations to gain perspective on the racist treatment of Black Americans and their continued struggle in the US. Additionally, as reflected in The New York Times (opens in new tab), he lobbied these leaders to take the treatment of Blacks in America to the UN as he argued that racism and discrimination boiled down to a human rights issue.
Godfather of Harlem season 3 episodes continue to air on Sundays on the new MGM Plus. By the way, make sure you check out our Fact vs Fiction for season 3 episode 2 focusing on Jose Battle.
Get the latest updates, reviews and unmissable series to watch and more!
Terrell Smith has a diverse writing background having penned material for a wide array of clients including the federal government and Bravo television personalities. When he's not writing as Terrell, he's writing under his pseudonym Tavion Scott, creating scripts for his audio drama podcasts. Terrell is a huge fan of great storytelling when it comes to television and film. Some of his favorite shows include The Crown, WandaVision, Abbot Elementary and Godfather of Harlem. And a fun fact is he's completely dialed into the TLC 90 Day Fiancé universe.
Thank you for signing up to Whattowatch. You will receive a verification email shortly.
There was a problem. Please refresh the page and try again.