Godfather of Harlem season 3 stars preview a 'combustible' season
Godfather of Harlem's Ilfenesh Hadera and Antoinette Crowe-Legacy talk about how their characters have changed.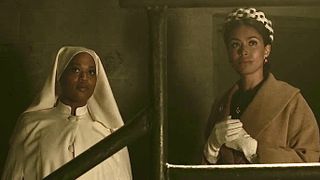 (Image credit: MGM Plus)
To many Godfather of Harlem fans, it seems like forever since they caught up with Bumpy Johnson (Forest Whitaker) and crew. Since the last episode aired in August 2021, viewers have been chomping at the bits to know what happens. The wait is over, as Godfather of Harlem season 3 kicks off on the rebranded MGM Plus Sunday, January 15.
Godfather of Harlem season 2 ended with Bumpy was in a very tight situation having to choose between his friendship with Malcolm X (Nigel Thatch) and his business. Malcolm X had a growing list of enemies in the Nation of Islam and a hit had been put out on his life. When Bumpy caught wind of that news, he raced to save his longtime pal.
Unfortunately, choosing to play hero, he wasn't available to help store the newly acquired drugs he purchased via his French connection and for the Five Families. That proved to be a disastrous decision for his business, for at the same time, a riot was happening. The rioting eventually made its way to the warehouse where Bumpy was storing the drugs, and with one Molotov cocktail, his product went up in flames.
It's here where season 3 picks up, a down, but not out, Bumpy trying to figure out his next moves. What to Watch spoke with stars Ilfenesh Hadera and Antoinette Crowe-Legacy, who respectively play Mayme and Elise, in an effort to see what fans can look forward to in the new season. Talking with both of them was not only fun, but rather enlightening as well. Here's what they had to say.
WTW: How does it feel to be back in the swing of things with a brand-new season?
Crowe-Legacy: It feels amazing. It feels fantastic. I remember when we got the green light for it, I was like ready. I had to wait a few months, but I was ready to go. And I was so excited when I read the pilot for the season. I was like this is really great. I love how they pivoted especially with everything happening with Bumpy and Malcolm X this season. It's really, really a fun ride.
Hadera: You never want to take a third season for granted, because it really doesn't always happen… But I think we all kind of assumed we'd get a season 3, and thank God we were right and we did.
WTW: What's it like working with heavy hitters like Forest Whitaker and Whoopi Goldberg?
Hadera: [laughing] The closest I got to Whoopi was having our wigs housed next to one another in hair and makeup. And I took a photo. It said Ilfenesh and it said Whoopi, and I took a photo and sent it to my mom and I was like, "mama I made it. I have a wig next to Whoopi." This is insane and incredible… She's [Goldberg] tremendous as Miss Willa.
Working with Forest is a total dream, still, season 3. And it's gotten more dreamlike because the closer we get, the easier it is to relate to him as an actor, as a friend as a colleague.
WTW: What's the biggest difference between your characters from season 1 to season 3?
Hadera: Season 1, I feel like Mayme is a devoted mother, wife, homemaker, nurturing her family, wanting to get everything in order under the Johnson family roof. She's thinking about them. She's not thinking about her.
Season 3 rolls around and she's no longer in this must-preserve-my-family mode. Now, she's in this "I must live my truth" moment. Which I think is a really beautiful evolution for her. And she's vocal about what that means for Bumpy and his dealings, and what that means for their relationship. It creates some tension, but I think she's really living in her own skin, independent of mother, wife, Mrs. Johnson.
Crowe-Legacy: I think in season 1 you see Elise in survival mode. You see she's trying to kick her heroin addiction. You see her trying to get her daughter back. You see she has these very specific needs and she's fighting very hard to make her life work around that. And for anyone who has battled with addiction and talked about it, coming out of an addiction is an extraordinarily difficult thing and maintaining it. And it's a day-by-day thing. So I think in season 1, you really see that day-to-day of trying to commit herself to something bigger than this addiction that has controlled her for her entire life.
By the time we hit season 3, you really start to see her growth opening up because she's been clean for a long time. She is getting to see her daughter on a regular basis and getting to mother her in many ways, while trying to respect that she's had a mother her whole life.
You see she wants to have a relationship and wants to build her own family. She wants to work and wants to contribute to what's happening to Black people in Harlem. She wants to help elevate them and bring them out of it, and do whatever she can to help Malcolm.
Hadera: Piggybacking off of that, the word if you had to pick one word for season 1 it would be survive. By season 3, everyone is trying to thrive… Everyone wants what they deserve.
WTW: On that note, what can we look forward to in season 3?
Hadera: All of these mega-elements intersecting. And then like throwing the Molotov cocktail of the CIA and the Cuban mafia into it. Enter cocaine in Harlem in 1965. What does that look like? It's combustible this season. [laughing] That's very general, but that's all I can say.
Crowe-Legacy: You have the Civil rights Movement and everything that's happening super politically and also locally. You have the intersection of the Italian Mob. Bumpy Johnson coming in trying to control things. You have the NYPD, the FBI, the CIA, you have all these big powerhouses coming to fight each other.
You still have all of the music and the culture and the food and the life that's also happening in Harlem. You have this really amazing intersection of all of these things happening at the same time and the danger that brings.
Hadera: [laughing] And all set to the soundtrack of a killer Swizz Beatz score.
WTW: Is there one particular character that surprises you the most this season?
Crowe-Legacy: You know Michael Raymond-James comes in as Joe Colombo, who is like a new boss in the Italian mob. And starting in the pilot, the things he does throughout the season are severe. He's a dangerous man and he lets everybody know it very regularly… I think for me, that has been one of the most interesting characters to track throughout the season.
Hadera: Even Wild Bill Harvey, the CIA wildcard in this series now played by Joel Marsh Garland, who is an incredible character/actor, I cannot wait to see what he does this season.
WTW: What are some movies or shows you're currently watching or looking forward to watching?
Crowe-Legacy: Abbott, still ongoing, love Abbott Elementary. I really loved Severance this year, so I'm really excited for that to come back. [laughing] There's so much TV.
Hadera: I get stuck on watching these limited series, then I binge them and then I have nothing… [laughing] But our show comes back on January 15. So, that's what I'll be watching. I know that.
Godfather of Harlem season 3 kicks off on Sunday, January 15 on MGM Plus (formerly known as Epix).
Get the latest updates, reviews and unmissable series to watch and more!
Terrell Smith has a diverse writing background having penned material for a wide array of clients including the federal government and Bravo television personalities. When he's not writing as Terrell, he's writing under his pseudonym Tavion Scott, creating scripts for his audio drama podcasts. Terrell is a huge fan of great storytelling when it comes to television and film. Some of his favorite shows include The Crown, WandaVision, Abbot Elementary and Godfather of Harlem. And a fun fact is he's completely dialed into the TLC 90 Day Fiancé universe.
Thank you for signing up to Whattowatch. You will receive a verification email shortly.
There was a problem. Please refresh the page and try again.