Fact vs Fiction: Godfather of Harlem season 3 episode 4 — did Che Guevara and Malcolm X meet?
Plus, was Malcolm X really poisoned during a trip to Egypt?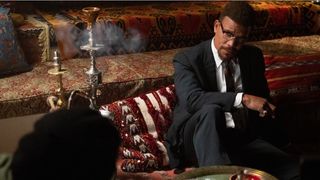 (Image credit: Metro-Goldwyn-Mayer Studios Inc.)
Perhaps more now than in previous seasons, Godfather of Harlem has shifted a lot of the storytelling into following Malcolm X (Jason Alan Carvell). While the last episode saw the civil rights icon get off to a rocky start in his pilgrimage to Mecca, in Godfather of Harlem season 3 episode 4, viewers got to see him with another social activist of the day, Che Guevara (Arturo Del Puerto). The two met twice while they both happened to be in Egypt, and Guevara pushed Malcolm X to widen his global perspective. But were these meetings grounded in fact?
Also, what about the New Yorker's brush with poisoning? Did someone really try to sabotage Malcolm X?
Here's what we found out.
More Godfather of Harlem Fact vs Fiction stories
Did Che Guevara and Malcolm X meet?
The fiction
In episode 4, Malcolm X is still overseas, but now he's made it to Cairo, Egypt, where he's expected to make a speech at the Pan-African conference. However, in the days leading up to the event, he takes the opportunity to meet with prominent Argentine Communist and Cuban revolutionary Guevara.
Linking up in a tucked-away corner of a lounge, the two talk about their mutual respect for their acquaintance Fidel Castro and Guevara pushes Malcolm X to think broader about his fight. Instead of just galvanizing a rallying call for civil rights and social justice for Black lives in the US, Guevara prompts the American to become a champion for global liberation, especially in light of what was happening in South America at the time. It left Malcolm X with a lot to think about, but did the meetings actually occur?
The fact
While there are rumors that the two gentlemen met face-to-face, you'd be hard-pressed to find documentation that a meeting of that magnitude actually happened in Egypt. Now Guevara did make a failed attempt in 1964 to go to Harlem to meet with Malcolm X and speak before the Organization of Afro-American Unity, according to Slate (opens in new tab).
Since Guevara was already in New York City to have conversations with the UN, he planned to speak with Malcolm X's group at the invitation of the Islamic minister. Unfortunately, due to the danger that presented itself, Guevara backed out of the engagement and sent Malcolm X the following words recorded in University of Massachusetts (opens in new tab) research:
"Dear brothers and sisters of Harlem, I would have liked to have been with you… but the actual conditions are not good for this meeting. Receive the warm salutations of the Cuban people and especially those of Fidel, who remembers enthusiastically his visit to Harlem a few years ago. United we will win"
While we're speaking of Castro's visit to Harlem, the Cuban leader's trip to the neighborhood was not planned. As reported in Smithsonian Magazine (opens in new tab), in September 1960, he was in New York City to attend the gathering of the General Assembly of the United Nations. Unfortunately, after having an incident at a Midtown hotel where he and his party were supposed to be checking in, he was without a place to stay in the city until he was ushered to Hotel Theresa in Harlem, at the behest of Malcolm X.
The civil rights leader was a fan of Castro and wanted to aid him. The latter would go on to say, as referenced again in the University of Massachusetts work:
"I always recall my meeting with Malcolm X at the Hotel Theresa, because he was the one who supported us and made it possible for us to stay there. We faced two alternatives. One was the United Nations gardens — when I mentioned this to the Secretary-General, he was horrified at the thought of a delegation in tents there. But when we received Malcolm X's offer — he had spoken with one of our comrades — I said, 'That is the place, the Hotel Theresa.' And there we went. So I have a personal recollection very much linked to him."
Was Malcolm X poisoned in Egypt?
The fiction
As already mentioned, Malcolm X was in Egypt to give a speech. What wasn't discussed was that while there, he is warned by an alleged representative of the US State Department via Elise (Antoinette Crowe-Legacy) not to give it because his sentiments wouldn't be in the best interest of the US government. (We say alleged because Malcolm X was adamant the person was a member of the CIA.) When Elise makes it known that Malcolm X was most likely going to go through with making his planned statements, the government operative levied a threat about Malcolm X not needing more enemies.
Later in the episode, Malcolm X found himself passing out in his hotel room. When he later woke up, Elise states that he was probably poisoned. So was the real civil rights leader sabotaged while in Cairo?
The fact
According to Ilyasah Shabazz, Malcolm X's daughter, she said her father did express concerns that the CIA was monitoring his moves while he was overseas. You can hear it in her own words in the video clip below.
Now as far as him being poisoned, there are several sites including Al Jazeera News (opens in new tab), that alleged he was "mysteriously poisoned during a trip to Egypt and barely left the country alive." Although to be perfectly clear, there is no concrete evidence to point to a suspect if this was the case.
Godfather of Harlem season 3 continues to air on Sundays on MGM Plus.
Get the What to Watch Newsletter
The latest updates, reviews and unmissable series to watch and more!
Terrell Smith has a diverse writing background having penned material for a wide array of clients including the federal government and Bravo television personalities. When he's not writing as Terrell, he's writing under his pseudonym Tavion Scott, creating scripts for his audio drama podcasts. Terrell is a huge fan of great storytelling when it comes to television and film. Some of his favorite shows include The Crown, WandaVision, Abbot Elementary and Godfather of Harlem. And a fun fact is he's completely dialed into the TLC 90 Day Fiancé universe.