Fact vs Fiction: Godfather of Harlem season 3 episode 3 — what happened during Malcolm X's pilgrimage to Mecca?
Was he detained in Saudia Arabia? Additionally, what exactly is the HARYOU organization talked about in the series?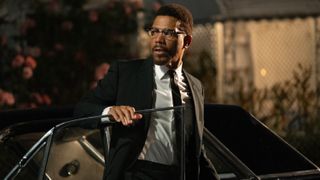 (Image credit: Metro-Goldwyn-Mayer Studios Inc.)
Following Godfather of Harlem season 3 episode 3, it became clear that Bumpy (Forest Whitaker) doesn't quite know his new partner Jose Battle (Yul Vázquez), who is connected to the CIA. (However, if you've checked out our Fact vs Fiction for episode 2, then you already had an idea.)
However, another big plot point of the episode was Malcolm X's (Jason Alan Carvell) pilgrimage to Mecca. Shortly upon arriving in Saudia Arabia, his religious journey gets off to a rocky start as he's immediately detained by customs. Thankfully for him, things start to turn around after meeting Dr. Omar Azzam (Frank Wood). However, is any of this true?
That's what we sought to find out. Plus, we took a look at the much-talked-about organization HARYOU. Here's everything we know.
What happened during Malcolm X's pilgrimage to Mecca?
The fiction
In episode 3, Malcolm X arrived in Saudi Arabia only to be quickly detained by the government. The civil rights legend was attempting to access holy sites in Mecca and in order to do that a person must have valid paperwork authenticating their identity and religion. Unfortunately for Malcolm X, there was some controversy with his paperwork verifying he was a Muslim, and he was detained in a cell until it could all be sorted out.
Coming to his rescue, Dr. Omar Azzam arrived to see the American and helped him get out of lockup. While Malcolm X was appreciative to leave confinement, he wasn't used to receiving kindness from a white man, and he gently let that point be known.
In the course of one episode, Malcolm's perception of white people began to change, realizing that there are good people that come from a multitude of backgrounds. So were his detainment and subsequent enlightenment things that really happened?
The fact
Yes. In The Autobiography of Malcolm X: As Told to Alex Haley (opens in new tab), the former recapped how prior to his pilgrimage to Mecca, he was told by the Saudi ambassador that no Muslim converted in the US could have a visa for a pilgrimage without signed permission from Dr. Mahmoud Shawarbi, a lecturer of Islam and advisor to the United Nations. The civil rights leader reached out to Dr. Shawarbi and attained such permission. Additionally, the advisor gave him the contact information of a few of his friends, Dr. Omar Azzam and Dr. Abd-Ir-Rahman Azzam.
Once Malcolm X landed in Saudia Arabi to embark on his pilgrimage, he was in fact detained by the government at the airport. Saudi officials needed to further validate his religion and said he would need to earn the approval from the Muslim high court known as Mahgama Sharia to gain access to Mecca (again, this is in spite of his signed permission letter).
After spending some time in confinement, it dawned on him to call Dr. Omar Azzam for his assistance. With the good doctor's help, Malcolm X was freed from custody and allowed to venture to Mecca, and the Azzams (both white) served as his hosts while there.
The genuine brotherhood and kindness he felt from the Azzam family and others on his pilgrimage would have a profound effect on Malcolm X and how he viewed race. In his Letters from Mecca (opens in new tab) he stated:
"America needs to understand Islam, because this is the one religion that erases from its society the race problem. Throughout my travels in the Muslim world, I have met, talked to and even eaten with people who in America would have been considered white — but the white attitude was removed from their minds by the religion of Islam. I have never before seen sincere and true brotherhood practiced by all colors together, irrespective of their color."
What is HARYOU?
The fiction
As Mayme Johnson (Ilfenesh Hadera) attempts to step more outside of Bumpy's shadow, she thought she found an opportunity to do that as an executive director of HARYOU. Under the tutelage of Congressman Adam Clayton Powell (Giancarlo Esposito), she was able to help the organization garner some good press and even earned a promise that newspapers would run ads for HARYOU's "Get Out the Vote Initiative." Additionally, Powell shared that the organization was on the brink of receiving millions in federal funding as directed by President Lyndon B. Johnson.
Sadly in episode 3, her association with the group seemed a little less feasible in the foreseeable future as she received an ominous threat from federal authorities looking to trace donations the Johnsons made to HARYOU back to Bumpy's illegal businesses. The federal agent making the threat declared if such a connection could be made, the community organization would be shut down. Trying to put the survival of HARYOU over her desire to help the cause, she seemingly made the choice to take a step away from the Harlem program. (It's not like Bumpy was going to quit his illegal hustles.)
With that said, what is HARYOU exactly?
The fact
Harlem Youth Opportunities Unlimited, or HARYOU, was an organization founded by psychologists Kenneth Clark and Mamie Phipps Clark in 1962. The group was rooted in social activism and was committed to helping to combat some of the injustices plaguing young Black people in Harlem. Usually, HARYOU sought to make strides via education and employment opportunities.
Now in terms of Powell's involvement with the organization, that is interesting. President Johnson did direct millions to be poured into community improvement programs in Harlem, but not necessarily all into HARYOU. Powell was actually sponsoring the organization Associated Community Teams (ACT). HARYOU eventually merged with ACT to become HARYOU-ACT, and under this newly formed merger, the organization received federal funding. However, as laid out in The New York Times (opens in new tab), with the government money came scandal and a bit of infighting with allegations hurled at Powell and Dr. Kenneth Clark.
Godfather of Harlem season 3 continues airing new episodes on Sundays on MGM Plus.
Get the What to Watch Newsletter
The latest updates, reviews and unmissable series to watch and more!
Terrell Smith has a diverse writing background having penned material for a wide array of clients including the federal government and Bravo television personalities. When he's not writing as Terrell, he's writing under his pseudonym Tavion Scott, creating scripts for his audio drama podcasts. Terrell is a huge fan of great storytelling when it comes to television and film. Some of his favorite shows include The Crown, WandaVision, Abbot Elementary and Godfather of Harlem. And a fun fact is he's completely dialed into the TLC 90 Day Fiancé universe.