Ghosts season 2 episode 12 recap: jealous ghosts cause a major jam
Hetty tries to give some 19th century wisdom to Sam and Sas gets to know Jessica some more.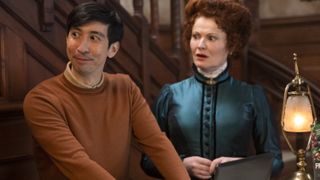 (Image credit: Jonathan Wenk/CBS)
NOTES: this post contains spoilers for Ghosts season 2 episode 12 "The Family Business."
Things open with Hetty (Rebecca Wisocky) telling Trevor (Asher Grodman) that their holiday dalliance (seen in the Christmas special) can't happen again and insults Trevor's manhood, which not surprisingly he's kind of into. That's on brand for Hetty though, who likes to take control of any situation. Especially situations involving Woodstone Mansion. Once the lady of the house, always the lady of the house, although some of her methods need updating.
Freddie really is the perfect assistant
Freddie (Mike Lane) has made some upgrades around the mansion. He created a customized reservation system to stop double bookings and also installed a security camera at the front desk. The reservation system gets put to good use because it's the Ulster County Jam Fest weekend and Woodstone is packed to capacity with middle aged white suburbanites reliving their college days and enjoying the finest Ulster County jams and jam bands.
Samantha (Rose McIver) and Jay (Utkarsh Ambudkar) are thrilled with Freddie's work, but Hetty tells Samantha not to compliment the help, believing they work better when they're hungry and afraid. Hetty continues to school Samantha in 19th century management wisdom by telling her to stop asking about Freddie's personal life to get to know him because he will start to think she cares about him. That's not the message Samantha should be sending, according to Hetty.
Ghosts in cars
Now that Freddie is back at Woodstone, so is Jessica (Nichole Sakura), at least during the day when Freddie's car is there. Sas (Roman Zaragoza) and Jessica have been getting to know each other and Sas is totally smitten. They're kissing in Freddie's car when he gets in and turns on some REO Speedwagon, which is more of a mood killer than Freddie.
No good deed goes unpunished
Despite Hetty's insistence Samantha not be nice to Freddie, she offers some advice when Freddie reveals he and his girlfriend are having an issue because she doesn't refill the Brita water pitcher. Hetty, infuriated, forbids Samantha from getting involved in Freddie's personal life.
But she's a ghost and can't really do anything to enforce her ultimatum. The worst she can do is tell Samantha her inheritance is going to her cousin. Which may have carried some weight back in Hetty's day but rings hollow considering Woodstone is Samantha's inheritance and she's already inherited it.
Freddie takes Samantha's advice, but it backfires and his girlfriend breaks up with him. Freddie becomes a useless sobbing mess and Hetty is gloating.
Sas gets jealous
Alberta (Danielle Pinnock), Thor (Devan Chandler Long) and Flower (Sheila Carrasco) ask Sas how his relationship with Jessica is going. He reveals he and Jessica kissed, which is a big deal for him. But when Sas mentions Jessica has great stories about life on the road, Alberta talks about how she loved having different men in different cities when she was touring. Sas immediately becomes insecure and worries Jessica is seeing other ghosts.
To find out what Jessica does when Freddie's not parked at Woodstone, Sas asks her about Freddie's apartment. Jessica tells him that she spends time with a ghost there who was a football player and modeled in his life but is surprisingly sensitive. And after Freddie's girlfriend kicks him out they go to stay at Freddie's mom's house, Jessica met a firefighter ghost, Chad, who was doing a charity car wash for his firehouse when he was mowed down accidently by a driver distracted by his abs.
Hetty takes matters into Trevor's hands
Hetty is determined to turn Samantha into what she thinks a leader should be. So she gets Trevor to sabotage Freddie's reservation system since he's the only one who can manipulate objects. It overbooks the Woodstone and threatens the business when three different jam band enthusiasts show up all having booked the same suite. Samantha, blaming Freddie, yells at him in front of guests. He is so upset that he quits.
But Jay, checking the change log on the reservation system, can see the changes were made at night when Freddie wasn't even at the Woodstone. When Jay tells Samantha the maximum occupancy was changed from four to 69 she instantly suspects Trevor. Her suspicions are confirmed when one of the reservations made after the change is revealed to be "Mr. and Mrs. Seymour Butts."
Samantha has it out with Hetty. Hetty says she just wanted to prevent Samantha from making a big mistake. Hetty is surprisingly emotional when she tells Samantha that for 100 years she watched her own kids and other Woodstones making mistakes in her house and she couldn't communicate with them to stop them. Since she can communicate with Samantha she was just trying to help, in her own way. Samantha forgives her and they agree to disagree on some things moving forward.
Samantha and Jay have to beg Freddie to come back to work, but he eventually does. That means that Sas gets to apologize to Jessica and they make up. Jessica tells him she's not interested in the other ghosts, which makes Sas feel a lot better.
The security camera catches more than Freddie bargained for
When Freddie is going over the security camera footage from the front desk to figure out what happened to the reservation system, he catches the keys on the keyboard being pressed down by an unseen hand. Will Freddie still want to work there if he finds out the place is haunted?
New episodes of Ghosts air Thursdays on CBS. You can watch the latest episodes on-demand with Paramount Plus.
Get the latest updates, reviews and unmissable series to watch and more!
Sonya has been writing professionally for more than a decade and has degrees in New Media and Philosophy. Her work has appeared in a diverse array of sites including ReGen, The Washington Post, Culturess, Undead Walking and Final Girl. As a lifelong nerd she loves sci-fi, fantasy and horror TV and movies, as well as cultural documentaries. She is particularly interested in representation of marginalized groups in nerd culture and writes reviews and analysis with an intersectional POV. Some of her favorite shows include Game of Thrones, The Walking Dead, The Handmaid's Tale and The Sandman.
Thank you for signing up to Whattowatch. You will receive a verification email shortly.
There was a problem. Please refresh the page and try again.