Keeley Hawes on The Midwich Cuckoos: 'It's a female horror story'
Keeley Hawes plays Dr Susanna Zellaby in Sky Max's modern retelling of John Wyndham's iconic sci-fi tale.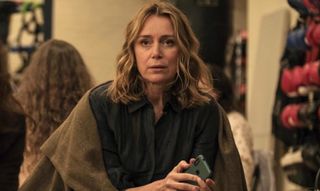 (Image credit: Sky)
Keeley Hawes finds herself at the center of a sinister tale as Sky Max reimagines iconic sci-fi novel The Midwich Cuckoos as a modern-day psychological thriller this month.
Based on John Wyndham's creepy 1957 book, the eight-part series opens in the idyllic commuter town of Midwich after it's plunged into a panic when a freak blackout knocks everyone unconscious one summer evening.
For 12 hours no phones work and no one can get in or out of the town, yet when things return to normal it gradually dawns on the community that every woman of childbearing age in the affected area has become pregnant.
One woman who escapes this fate is Dr Susanna Zellaby, a successful child psychologist, who was out on a date in London when the blackout occurred and returns to find Midwich gripped by fear and doubt.
We spoke to Keeley Hawes in an exclusive interview to find out more about this dark thriller...
Keeley Hawes on playing Dr Susanna Zellaby
"She moved to Midwich to save money after splitting up with her husband, although as this is TV she does live in the biggest house in the world! She's a successful child psychologist and lives with her grown-up daughter, Cassie, who's come to live back with her because she's been struggling with mental health issues and substance abuse.
"Susanna loves Cassie deeply, but it's not an easy mother daughter relationship. Then this event happens, which is actually the start of them repairing their relationship a bit. It's just a shame it takes Cassie being impregnated by parasitic aliens for them to become closer!"
Many of the other women affected by the event look to Susanna for leadership don't they?
"She does become their voice and someone they turn to, because each of the women have their own dilemma. Some of them never wanted to be pregnant, whereas some are thrilled at the news. There are girls in school uniforms as young as 15, right up to women in their 40s, so they're all at different stages in their lives.
"It's horrifying because it is emotional, because it's relatable and because the idea of having something in our bodies like this is awful. It's a subtle tale that soon becomes a horror, but it's a very female horror story!"
Your character is a man in the original book, does it feel right that she was rewritten as a woman for this show?
"It's very telling that in the book, the person at the centre of this female story about women and their bodies, is a man. I do think it was right for it to be adapted like this and it feels like a seamless transition for that character to become a woman. It made perfect sense.
"The series is produced by Ruth Kenley-Letts who I've worked with more than anyone else in my career, most recently on upcoming ITV drama Stonehouse, who told me the showrunner David Farr (The Night Manager) was bringing in female writers for each episode, which I thought was important."
The children are pretty spooky when they're eventually born aren't they?
"This show is one of those complex things I've ever worked on in terms of the amount of children, the amount of makeup and the effects. But actually, when you watch it, you're not aware of all of those things, because they're done in a very subtle way.
"A great example is the children's teeth. They're all wearing false teeth to give them a uniform look, which is quite unsettling. But taking all these kids to a specialist dentist is no small endeavour. People probably won't notice or not realise what they have noticed, it just feels like something's not quite right and you're not sure what it is!"
John Wyndham's novel has previously inspired two film adaptations - both called The Village of the Damned - have you ever read the book or seen any of the films?
"I was aware of the story, but hadn't read the book or seen the film adaptations. I came into it with completely fresh eyes - and what a surprise that was! It really sent shivers down my spine and I raced through the script when they sent it to me. I'm not a big horror fan as I'm quite jumpy, but I really enjoyed this, because it's a subtle story, which really messes with your mind."
The Midwich Cuckoos will premiere on Sky Max and NOW on Thursday, June 2 2022 at 9pm, with all 8 episodes available as a box set
Get the What to Watch Newsletter
The latest updates, reviews and unmissable series to watch and more!
Feature writer for TV Times, What's On TV, TV & Satellite Week and whattowatch.com
Sean has been writing about all things telly for over 10 years and in that time he's been lucky enough to interview stars like Ian McKellen, Tom Hardy and Kate Winslet. His favourite shows are The Great British Bake-Off, People Just Do Nothing and Succession and in his spare time he enjoys drinking tea, doing crosswords and watching football.