Lockwood & Co. ending explained: what happened with the bone glass?
Find out the answers to all your burning Lockwood & Co. questions about the ending of the thrilling supernatural series on Netflix.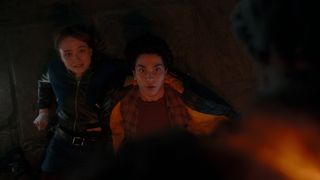 (Image credit: Netflix)
The first season of Lockwood & Co. ends with a good ol' cliffhanger, but before finding out if Netflix will renew this supernatural show for another season, it is time to go over what happened in that last episode and what viewers learned from it.
Kensal Green cemetery was once again the site of unfortunate events in Lockwood & Co.'s season finale, "Not the Eternal" as Lucy and Lockwood realize that George is nowhere to be found and has become obsessed with the bone glass.
The team had to fight several foes in the episode, and it saw them becoming closer than ever. So what happened in the last episode of this first season? Was the mystery of the bone glass finally unlocked?
Read on to find out everything you need to know about the ending, but beware of spoilers ahead.
What happened to George?
Ever since he caught a glimpse of that diabolical mirror, George has been obsessed with the bone glass. Deciding against turning it over to DEPRAC to be destroyed, and convinced it is the key to figuring out the origins of the Problem, George goes to meet Pamela in Kensal Green cemetery to investigate the issue.
They use the catafalque to go down the catacombs and it slowly becomes obvious that Pamela does not have George's best interests at heart. Indeed George is unaware of a big reveal the Skull gave to Lucy: the only way to look at the mirror safely is through someone else. In fact, Pamela intends on using him specifically for that.
After saving Kipps from a ghost and learning the Fittes agent is losing his Talent, George takes him to Pamela. Seeing that there is now a spare, Pamela ties up Kipps to use him instead of George, but no longer has a talent means Kipps is useless in this situation. George starts connecting all the dots, and figures out Pamela killed Carver and that she pretended to be his friend all along.
Thankfully, Lucy shows up to the rescue before Pamela could put George in danger. She volunteers to take his place, arguing she can talk to Type Three ghosts and is a better option to look at the mirror. But when Pamela makes Lucy gaze into the bone glass, the latter uses the Skull instead, making him look.
What did Lucy see in the mirror?
Lucy used the Skull to look at the mirror and he said that something was wrong. The talking head expected to see the Eternal but says that instead the bone glass is a trap and that they need to destroy it. Cut to George who runs toward the mirror and smashes it on the ground. While it seems broken at first, when Pamela picks up the bone glass, it encircles her to the point that it destroys her.
After Pamela is gone, the broken bone glass releases trapped spirits...but instead of attacking George and Lucy, they seem more interested in being free at last. However, Bickerstaff's ghost is out to get them but thankfully Lockwood comes to their rescue.
Who is the Golden Blade?
While Lucy went down to the catacombs to rescue George, Lockwood stayed outside to assist Kipps' team to fight Winkman and his men who also came to the cemetery to get their hands on the bone glass. After getting rid of most of them, Lockwood rushes to help Lucy but he is stopped by the Golden Blade, who tells him about how insignificant Anthony's parents were before shooting him. Of course, the bullet hit the shoulder and didn't kill Lockwood, but it gave him quite a bit to chew on.
At the end of the episode, when asked by Inspector Barnes about the shooter, Lockwood pretends he didn't see him. He later tells Lucy and George it was the Golden Blade and makes it clear he wants to find out who that is. The viewer, meanwhile, doesn't know much more than the Lockwood & Co. team, aside from the fact that the Blade works for Penelope Fittes and that, despite all her best efforts to appear as one of the good guys, she definitely cannot be trusted.
What's next for the Lockwood and Co. agency?
After the debacle at the cemetery, Lockwood and Kipps call off the bet they had going on, admitting it was childish and that they can all work in this industry without fighting each other constantly. Lucy promises to Kipps that they will not reveal that he lost his talent, and he and Lockwood finally make peace.
Back at the house, Lucy, George, and Anthony have an honest conversation over tea where Lockwood promises there will be no more secrets, and while on that subject, he tells them he is ready to show the content of the mysterious locked room everyone has been asking questions about. But just as he takes them to it and opens the door, the episode ends, leaving audiences to keep wondering about its content for a little while longer.
Will there be a second season of Lockwood and Co.?
Lockwood & Co. has not yet been officially renewed for a second season but the show is currently among the top 10 most-watched series on Netflix in several countries, which puts it in a good position to get a renewal and not become one of the shows Netflix dropped the axe on way too soon.
All episodes of Lockwood & Co. are now available on Netflix.
Get the What to Watch Newsletter
The latest updates, reviews and unmissable series to watch and more!
Marine Perot is a freelance entertainment writer living in London. She has been writing about television for 10 years, which led us to work with various publications including Paste Magazine, Radio Times, Konbini, Giddy, and more. Her favorite shows include Lost, Outlander, Game of Thrones, and The Haunting of Hill House. When not writing, Marine enjoys going on adventures with her corgi and reading a good book.