10 shows Netflix should not have axed
Has Netflix canceled any of your favorite shows?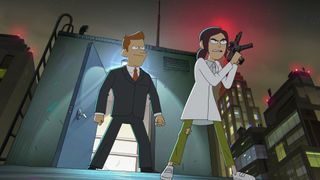 (Image credit: Netflix)
As one of the most well-known streaming services around, Netflix is home to a huge number of shows and movies. Despite the broad content offering, it's getting more difficult to get stuck into the latest Netflix shows because the streaming service has also developed a bit of a reputation amongst viewers for canceling shows before they get off the ground.
Sometimes, production issues (especially during the global pandemic) have caused unforeseen issues, and some others haven't quite reached a large enough audience to warrant further seasons. In some frustrating cases, though, we've not had a proper explanation for why things got canceled.
It's never fun to hear that your favorite show has been axed, as it usually leaves you with unfinished story arcs and cliffhanger endings that never get resolved. Below you can read a little bit about some of the Netflix shows that we think got scrapped too soon...
1. Archive 81
Despite briefly hitting the no. 1 spot on Netflix upon its release in January 2022 (and a shocking cliffhanger ending), Netflix revealed it wouldn't be pursuing a second season of the compelling horror-mystery series Archive 81 just two months after its release.
Based on the podcast of the same name, the series followed video archivist Dan (Mamoudou Athie) who gets drawn into the documentary work of Melody Pendra (Dina Shihabi) from a series of videotapes he's hired to restore. Soon, he becomes obsessed with getting to the bottom of Melody's investigation into the Visser apartment building, and the dangerous cult she finds lurking within.
Showrunner Rebecca Sonneshine clearly had more plans for the show's future, as she told Entertainment Weekly (opens in new tab): "It was always meant to keep going. We are always thinking about season 2" back in January 2022 and discussed where things might have gone in the second series.
2. Sense8
Sense8 is one of the earliest releases on our list. This sci-fi series was developed by the Wachowskis sisters (The Matrix) and Babylon 5 creator J. Michael Straczynski and followed a group of strangers who suddenly develop a mental link, despite coming from different cultures in different parts of the world. Whilst they grow closer together and begin to help one another, the "sensates" are hunted down by a shadowy figure.
Sense8's cancellation disappointed many fans back in 2017 who were very interested to see where the series would go. Unlike some of the other entries on this list, though, there was some good news for fans. Even though they didn't get the expected third series, Netflix did at least commission a final, feature-length special to cap the series off.
3. Warrior Nun
Warrior Nun was a fantasy action series centered on Ava Silva, a young woman pulled into a new world where she fell in with a group of nuns who battled supernatural threats to the planet. It ran for two seasons but was canned just over a month after the second arrived in November 2022.
Warrior Nun fans have continued to be some of the most vocal of any Netflix show fandoms in the wake of their favorite show's cancellation, including a campaign that seemingly increased the number of people looking to cancel Netflix subscriptions.
4. Fate: The Winx Saga
Fate: The Winx Saga was a live-action take on the Winx Club cartoon that debuted in 2021. The series is a coming-of-age style journey following a group of fairies as they hone their skills at Alfea, a magical boarding school found in the Otherworld. There, they navigate everything from rivalries to fighting monsters and their love lives.
Though it drew some mixed reviews from critics, Fate: The Winx Saga clearly had a passionate audience. Shortly after the series was canceled following the release of season two, fans launched a petition calling for a third season, which now has more than 125,000 signatures at the time of writing.
5. The Midnight Club
One of Mike Flanagan's final projects for Netflix was The Midnight Club, a YA horror series that dropped a few weeks ahead of Halloween in 2022. Unlike some of Flanagan's other projects, The Midnight Club wasn't intended to serve as a limited series, but it got the axe after a single series had aired in December. At least viewers weren't left totally in the dark, as Mike Flanagan revealed his plans for The Midnight Club's second season in a blog post shared shortly
On the same day, news broke that Mike Flanagan and Trevor Macy had signed a new deal to make new projects for Prime Video going forward, the first of which will be an adaptation of Stephen King's The Dark Tower series. Their only remaining project at Netflix is The Fall of the House of Usher, airing later in 2023.
6. The Dark Crystal: Age of Resistance
The Dark Crystal: Age of Resistance was a big hit for Netflix when it landed in 2019. Serving as a prequel to the 1982 film directed by Jim Henson and Frank Oz, the series followed three Gelflings (elf-like characters) who set out to unite their peoples' clans against the Skeksis, the bird-like creatures who ruled over the planet Thra.
Despite winning an Emmy for Outstanding Children's Program and garnering praise from fans and critics alike, the series never made it beyond season 1, much to everyone's disappointment. And since no other network or streaming service has made a move to bring the show back since, it doesn't seem like we'll be heading back to Thra for more adventures anytime soon, either.
7. GLOW
GLOW's cancellation stung a little bit more than some of the other shows on this list purely because the series was actually picked up for a fourth (and final) season back in August 2019.
Sadly, we never actually got to see how the show wrapped up, as Netflix reversed their decision about a year later owing to the season 4 budget getting too high because of production issues caused by the COVID-19 pandemic. (see this story from Deadline (opens in new tab) for a full statement from series creators, Liz Flahive and Carly Mensch).
8. Inside Job
Adult animated comedy Inside Job was canned after just one season in mid-January, making it the most recent victim on this list at the time of writing. What's more troubling is that Inside Job's cancellation could be seen as evidence that Netflix is now in the habit of renewing shows only to later walk back on those same orders at a later date.
Inside Job transported fans to a universe where conspiracy theories are very real and the world is controlled by a series of shadowy organizations. The series definitely found its fans, and they were not happy to find out that the series had been canceled.
9. 1899
Mystery series 1899 followed a group of migrants who set off on a voyage from Southampton, UK, to start afresh in New York City. Their lives are soon thrown into disarray when they come across another vessel that was previously though missing on their trip.
To say much more would spoil the mystery of the show, but since it came from Dark creators Jantje Friese and Baran bo Odar, hopes were high that the mystery would continue to unravel later down the line. Sadly, 1899 apparently didn't reach Netflix's viewership expectations, with some suggesting that enough people didn't quite make it through the whole series.
10. I Am Not Okay With This
Despite ending with a rather significant cliffhanger and being well-received by fans and critics, we never got to see more from I Am Not Okay With This.
The show was a coming-of-age comedy from the director of The End of the F**king World and followed Sidney (Sophia Lillis) as she grappled with all the usual trouble that high school brings along with her developing superpowers. Sadly, the show reportedly fell prey to similar issues to GLOW as COVID impacted production, leading Netflix to decide not to move forward with a second season.
If this list has you worried whether your favorite new series is at risk, we've got a guide listing all the major shows that have been canceled in 2023, and if you're looking for more shows to get stuck into, why not check out our guide to the best Netflix shows currently on the streaming platform.
Get the latest updates, reviews and unmissable series to watch and more!
Staff Writer at WhatToWatch.com
Martin is a Staff Writer with WhatToWatch.com, where he produces a variety of articles focused on the latest and greatest films and TV shows.
Some of his favorite shows are What We Do In The Shadows, Bridgerton, Gangs of London, The Witcher, Doctor Who, and Ghosts. When he's not watching TV or at the movies, Martin's probably still in front of a screen playing the latest video games, reading, or watching the NFL.
Thank you for signing up to Whattowatch. You will receive a verification email shortly.
There was a problem. Please refresh the page and try again.