Netflix axes Inside Job after one season and fans aren't happy
Season 2 has been scrapped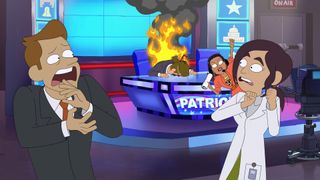 (Image credit: Netflix)
Despite Netflix starting 2023 on a strong foot, with the twisting heist TV show Kaleidoscope and gripping murder mystery The Pale Blue Eye both being well-received, it's not all sunshine and rainbows because the popular animated TV show Inside Job has been canceled.
The creator of this TV show, Shion Takeuchi, confirmed as much via Twitter (opens in new tab), saying "I'm heartbroken to confirm that Netflix has decided to cancel season 2 of Inside Job." This comes despite the fact that the show was renewed in July 2022, mid-way between the releases of the first and second parts of the first season.
Inside Job is a workplace comedy that follows a shadowy organization that controls the world — think Parks and Recreation in a universe where all conspiracy theories actually exist. It was released in two halves, one in October 2021 and the second in November 2022, though both technically count as one season.
Despite the huge amount of adult animated TV shows on Netflix, Inside Job was particularly well-received, and at the time of writing it has an 89% audience score on Rotten Tomatoes as well as a 79% critics' score.
Given those numbers, it's no surprise to hear that Inside Job fans aren't exactly pleased with this decision. Numerous people responded to Takeuchi's post, showing support for the show and expressing upset that they won't get to follow these characters further.
If you've been following Netflix's recent fortunes, you might not be surprised to see the word 'canceled' in close proximity to the streaming service's name. A rough 2022 saw many hit shows canceled, with Warrior Nun, Archive 81, Fate: The Winx Saga and The Midnight Club being just four of many, many shows canceled in the year. Animated shows weren't safe from the axe either with The Midnight Gospel and Q-Force being dropped too.
Though Netflix has had some hits in the first week of 2023, we've also seen the cancelation of 1899, so the well-received maritime mystery won't get a conclusion either.
So will Inside Job fans ever get to see more from Reagen Ridley and Brett Hand, the show's two main characters?
Well, it's not totally impossible, but Netflix would need to agree to let another production company create new episodes, and another streaming service air them. Alternatively, Takeuchi could follow in Midnight Club creator Mike Flanagan's footsteps and simply tell everyone what was to happen to each character, as the horror director took to Tumblr (opens in new tab)after his 2022 TV show was canceled after a single season and revealed the fates of all the characters.
If the cancelation of Inside Job and many other TV shows has you wondering what the streaming world has beyond Netflix, our guides to the best streaming services and best streaming deals could help you out.
Get the latest updates, reviews and unmissable series to watch and more!
Streaming and Ecommerce Writer
Tom is the streaming and ecommerce writer at What to Watch, covering streaming services in the US and UK. His goal is to help you navigate the busy and confusing online video market, to help you find the TV, movies and sports that you're looking for without having to spend too much money.
Thank you for signing up to Whattowatch. You will receive a verification email shortly.
There was a problem. Please refresh the page and try again.