Matthew Macfadyen reveals the best thing about starring with real-life wife in Stonehouse
Matthew Macfadyen stars opposite his wife Keeley Hawes in the stranger-than-fiction tale of 1970s politician John Stonehouse.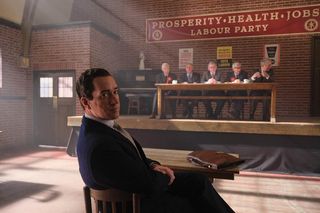 (Image credit: ITV)
Labour MP John Stonehouse famously faked his own death on a Miami beach in 1974, before resurfacing in Australia under an assumed name. Now his bizarre story is airing on ITV1 as drama Stonehouse, which takes in infidelity, alleged espionage and fraud, is recounted in a drama starring married actors Matthew Macfadyen and Keeley Hawes as Stonehouse and his first wife, Barbara.
A rising star in the Labour ranks, Stonehouse became a Cabinet minister under Harold Wilson (The Crown's Kevin McNally) and was tipped for high office. However, his personal life started to spiral out of control as he became involved with the Czech secret service, embarked on an affair with his secretary Sheila (Showtrial's Emer Heatley), and was suspected of fraud after a number of investments failed.
After pulling his Reggie Perrin-style stunt to avoid the impending scandal, Stonehouse's story grew even more outlandish as, after being spotted in Australia, he was mistaken for the missing peer Lord Lucan, whose nanny had been murdered the month that Stonehouse vanished.
Returning to England, he retained his job as an MP before being declared bankrupt, found guilty of fraud and sent to prison, where he suffered three heart attacks.
Here, Succession actor Matthew Macfadyen gives his take on this remarkable chapter in British political history and reveals what it is like to work with real-life wife Keeley Hawes once again…
How much did you already know about John Stonehouse?
Matthew Macfadyen: "I was born the month before John Stonehouse faked his own death in November 1974, so I didn't know much about the story before this project came along. I just had a vague memory of something I had read about him, and I conflated it with the 1970s TV series The Fall and Rise of Reginald Perrin [in which the title character, played by Leonard Rossiter, faked his own death in a similar fashion]."
What was John Stonehouse like?
"The young John Stonehouse was a bright, self-possessed man. Good-looking, charismatic and very personable with people, by all accounts he was a very good MP and good at talking to people from different social backgrounds. He was a shining light in the Labour Party, and destined for higher things had Labour won the 1970 General Election."
What was John's marriage to Barbara like?
"In the story as we tell it in this drama, there was real love and affection between John and Barbara, and she was very ambitious for John. Barbara was a bright woman, and they were a very good team. Even when John is talking absolute nonsense or trying to dig himself out of a hole, she is always there in the background watching quietly, all-seeing and all-knowing!"
What was it like to work with your wife, Keeley, again?
"We first acted together in Spooks [in 2002], and this was our fourth screen outing as a couple. We didn't have any qualms about working together again, playing husband and wife. It's as natural as breathing, and Keeley is a brilliant actress, so I'm lost in the scene and working with her. The bonus is that we get to hang out and spend time together!"
When is the next episode of Stonehouse on?
Stonehouse started on ITV1 on Monday, January 2, and will run over consecutive evenings at 9 pm until Thursday, January 4. The box set is also available on ITVX.
Get the latest updates, reviews and unmissable series to watch and more!
Ian writes about TV and film for TV Times, What's on TV and TV & Satellite Week magazines. He co-hosts the weekly TV streaming podcast, Bingewatch.
Thank you for signing up to Whattowatch. You will receive a verification email shortly.
There was a problem. Please refresh the page and try again.