Meet the Dead in Tombstone cast: who's who in the western action movie on Netflix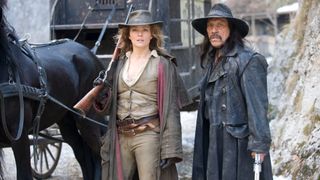 (Image credit: Universal Pictures)
Dead in Tombstone is the story of a criminal living in Colorado in the wild western days — when his gang betrays him, the devil gives him a second chance at life, as long as he's willing to hunt down the crew that wronged him to harvest their souls.
The western action film, which was directed by Roel Reiné (a professional largely working in TV who's directed episodes of Halo, Black Sails, Washington, Knightfall and plenty more), was released in 2013 to largely mixed reviews.
However Dead in Tombstone has enjoyed a second lease on life thanks to Netflix, as after the streaming service added the western actioner to its library, it jumped up onto the list of top 10 films in many countries, including the UK.
While the movie isn't a big-budget blockbuster, there are some faces you might recognize, even if you are glimpsing them through beards and now-fashionably-dubious hairstyles. So here's a list of the biggest names in Dead in Tombstone.
By the way, if you enjoyed the movie, it does have a sequel called Dead Again in Tombstone. While this isn't on any streaming service you can rent it for a low price on Amazon Prime Video (opens in new tab), the Google Play Store (opens in new tab), YouTube (opens in new tab)and other platforms.
Danny Trejo as Guerrero de la Cruz
Guerrero is the leader of the Blackwater Gang — while he's not exactly a hero, killing countless people in the first 20 minutes of the movie and trying to rob loads of gold, it's shown he values honor and doesn't want non-combatant innocents to get killed through his schemes.
Trejo is one of the most recognizable American actors working today, with a huge number of action movies under his belt. The second cousin of famed director Robert Rodriguez, the two have collaborated on 10 different films, notably on Spy Kids, Machete and its sequel, Once Upon a Time in Mexico and From Dusk to Dawn.
Other projects you might know him from include Predators, Con Air, Breaking Bad, King of the Hill, plenty of hit video games like Fallout: New Vegas, Grand Theft Auto: Vice City and Call of Duty: Black Ops and a staggering number of direct-to-video action movies like Dead in Tombstone. Plus, listed no his IMDb page are a staggering 26 upcoming projects.
Anthony Michael Hall as Red Cavanaugh
Guerrero's half-brother, Red Cavanaugh is the man who sets up the heist that results in his brother being betrayed, and he's also the man who leads the betrayal. He takes over as gang leader after his part-sibling's demise.
You may not recognize Hall, and that's because his biggest films were from when he was a teenager: he starred in John Hughes classics The Breakfast Club, Weird Science and Sixteen Candles. Beyond them he's also had major roles in Edward Scissorhands, National Lampoon's Vacation and The Dead Zone.
More recently he's also had smaller roles in The Dark Knight, War Machine, Live By Night and Foxcatcher
Mickey Rourke as Lucifer
Yep, that Lucifer — this story, as you can tell from the synopsis, includes the Devil. After Guerrero dies, he talks Lucifer into releasing him back into the world, in exchange for plenty more souls. He's also seen working as a blacksmith and a torturer of bad men's' souls.
Mickey Rourke is one of many Hollywood icons who began life in combat sports, as he was a boxer before he became an actor, a sport he returns to on occasion. This is evident from his first few roles, and in particular The Wrestler which was one of his biggest roles.
Like Trejo, Rourke has a recognizable face even if you can't immediately place it, but he's also been in The Expendables, Iron Man 2. Man on Fire, Once Upon a Time in Mexico and Immortals.
Dina Meyer as Calathea Massey
Massey was the wife of the Sheriff, who died in the botched heist — by the time Guerrero returns, she's become a tough and grizzled gunslinger who sees the revived and angry man as a potential ally.
Perhaps best known for Starship Troopers, Saw or Johnny Mnemonic, Meyer is a prolific actress, particularly in US TV shows as she's played recurring roles in Beverly Hills, 90210, Friends, Birds of Prey (she played the same role in The Flash) and several versions of CSI (as different characters).
Get the What to Watch Newsletter
The latest updates, reviews and unmissable series to watch and more!
Streaming and Ecommerce Writer
Tom is the streaming and ecommerce writer at What to Watch, covering streaming services in the US and UK. His goal is to help you navigate the busy and confusing online video market, to help you find the TV, movies and sports that you're looking for without having to spend too much money.