Meredith Grey's top 10 moments on Grey's Anatomy
We recap the highs and lows of Grey's Anatomy doc.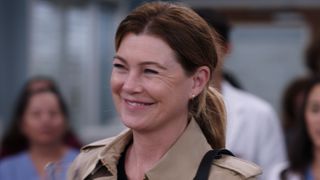 (Image credit: ABC)
As the saying goes, all good things must come to an end. With Ellen Pompeo's departure from Grey's Anatomy airing on February 23, fans of the primetime drama are finally saying goodbye to Meredith Grey.
For 19 seasons, Dr. Grey's journey has provided a roller coaster ride for viewers that have followed her every move. From the highs of her love story with Derek (Patrick Dempsey) to the lows of tragically losing many of those closest to her, and even having her own near-death experiences, fans have been right there to watch on Thursday nights.
With that being said, we decided to celebrate Meredith's big departure by reminiscing on her top 10 most memorable moments. Keep reading to see what made the cut.
Meredith tells Derek "pick me"
When Addison Montgomery (Kate Walsh) arrived in Seattle, she created the most iconic love triangle of the entire series. She arrived in town to reconcile with her husband Derek who was falling for then-intern Meredith. While Derek admittedly had strong feelings for the latter, he struggled to just throw his marriage away. Then in a heartfelt moment, Meredith made the passionate plea to the neuro superhero, "pick me, choose me, love me."
Meredith puts her hand on an explosive inside a patient
In season 2, the good doctors of Seattle Grace (now known as Grey Sloan Memorial) came across a patient with an active explosive inside of him. Keeping that explosive from actually detonating was a paramedic named Hannah (Christina Ricci) who had her hand on the device keeping it steady. However, as more time went by and her nerves got the best of her, Hannah fled from the scene and Meredith wound up placing her hand on the device to prevent it from going off in the patient and taking out half the hospital.
Thankfully for viewers, when it did go boom, Meredith was only knocked unconscious. This marked her first of many brushes with death.
Meredith almost drowns
Meredith's second brush with death happened during another rescue effort. While surgeons were helping patients at the infamous ferry crash, Meredith found herself tending to a patient who wound up knocking her into Elliot Bay where she "drowned" (episodes later it would be debated whether Meredith, who could swim, actually tried to save herself). Derek ultimately dove into the water and saved her, although she lay in a coma for a little while.
It was during this coma state that she envisioned recent people she lost and eventually came face to face with her mother, Ellis Grey (Kate Burton), who was in the midst of dying at that time. In the brief moment, Meredith seemingly made peace with her mother, who had previously levied the harsh critique of calling the young Grey "ordinary."
Thatcher slaps Meredith
We won't pretend that Meredith had the best father. Thatcher (Jeff Perry) abandoned his daughter as a kid, started another family and never really seemed to look back for years. Then once Meredith's sister Lexie (Chyler Leigh) started as an intern at the hospital, Thatcher started to slowly integrate back into his eldest daughter's life.
The strides they made in repairing their father-daughter relationship seemed to be wiped away when Meredith, who was working with other doctors, failed to save his second wife's life. Thatcher blamed Meredith for her death and he literally slapped her in the face in front of the hospital. She looked absolutely devastated.
Meredith ruins Derek's Alzheimer's trial
Loyal viewers of the show know that Meredith has always operated in the realm of grey, rather than black or white. While at times that made her a better doctor, it didn't always make her popular. Case in point, when Derek was conducting a medical trial to formulate a cure for Alzheimer's, Richard (James Pickens Jr.) got his wife Adele (Loretta Devine) to be one of the test subjects.
Unfortunately, Mrs. Webber was all set to receive a placebo until Meredith interfered to ensure she got the trial drug. Meredith would have gotten away with this effort to help Richard if it wasn't for Alex (Justin Chambers) snitching. Her actions set off a firestorm of events at the hospital.
Meredith almost dies in a plane crash
To this day, the plane accident has to be the most jaw-dropping season finales in the show's history. We can recall watching the season 8 episode when it first aired in complete shock and even horror. The plane carrying several doctors from the hospital just crashed in the middle of the woods.
When season 9 started, Meredith was trying to stay alive in the wilderness while in full-on panic mode. Her husband was hanging on for dear life and her sister was pronounced dead. The event was a lot to take in as a fan.
Derek dies in a car accident
It was tough to see Meredith lose the love of her life in season 11. Show creator Shonda Rhimes and her team of writers spent almost a decade building up this epic romance between Meredith and Derek, and then their story was just destroyed the moment he was struck by a vehicle on a dark winding road while trying to save a life.
When Meredith arrived at the medical facility that was doing a poor job at trying to save her husband's life, the tears that streamed down her face were so incredibly sad to watch and caused quite the stir on Twitter.
Meredith gets attacked by a patient
You guessed it, this is another moment that Meredith almost meets her maker. While treating a patient alone in an exam room, the patient slipped into a post-seizure hyper-aggression state and physically assaulted her. Meredith's injuries were so severe that she couldn't hear, her jaw was broken leaving her without the ability to speak and she lay bedridden for months.
What made the incident so powerful to watch as a viewer is that it was shot largely from her perspective and in silence. By the way, the scene was directed by Oscar-winner Denzel Washington (The Tragedy of Macbeth).
Meredith almost dies from COVID
When Grey's Anatomy decided to tackle the real-world COVID pandemic on the show, no one could have guessed that Meredith would be the one doctor to nearly die from the illness (although, given how many times she's almost met death previously, perhaps it was actually predictable).
The silver lining of the story arch was that as the brilliant surgeon lay in a coma for several episodes during season 17, the audience got to see her reconnect with several former characters of the series as she lay in her dream state, including Lexie and fan-favorite George O'Malley (T.R. Knight).
Meredith becomes the chief of surgery
We weren't sure when it would happen, but we always knew one day that Meredith would become the chief of surgery. So when she effectively took over for Bailey (Chandra Wilson) at the end of season 18, it wasn't a surprise. After all, it was the only position left for her to attain at the hospital. Now she leaves Grey Sloan Memorial having literally achieved all that she can at the place that "raised" her.
Grey's Anatomy airs on Thursday on ABC. New episodes become available to stream the next day on Hulu.
Get the What to Watch Newsletter
The latest updates, reviews and unmissable series to watch and more!
Terrell Smith has a diverse writing background having penned material for a wide array of clients including the federal government and Bravo television personalities. When he's not writing as Terrell, he's writing under his pseudonym Tavion Scott, creating scripts for his audio drama podcasts. Terrell is a huge fan of great storytelling when it comes to television and film. Some of his favorite shows include The Crown, WandaVision, Abbot Elementary and Godfather of Harlem. And a fun fact is he's completely dialed into the TLC 90 Day Fiancé universe.