Power Book II: Ghost season 3 episode 2 recap — Cane knows a major secret
Plus, how did Laruen survive?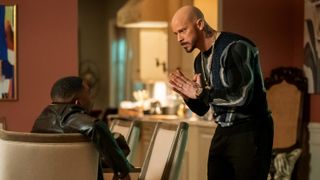 (Image credit: Starz)
NOTE: this post contains spoilers for Power Book II: Ghost season 3 episode 2, "Need vs Greed"
The season 3 opener for Power Book II: Ghost revealed a new villain alongside a revelation that Lauren Baldwin (Paige Hurd) was alive and under witness protection. For episode 2, viewers are looped into how exactly Lauren survived her attempted assassination by way of attorney Jenny Sullivan (Paton Ashbrook).
When Cane (Woody McClain ) made the demand that someone off Lauren for knowing a bit too much, he gave the job to Brayden (Gianni Paolo). Luring Lauren to the forest, he gave her to Effie (Alix Lapri) to finish the job. Knocking Lauren unconscious and driving her car into a lake, a man walking his dog foils the plan. This is where Sullivan explains why she's under protective custody. Though Lauren wants to be with her parents, who think she's dead, there's a bigger plan at play. Sullivan may have lost her chance to incarcerate Tariq due to Brayden taking the fall, but this situation gives her another shot.
In the meantime, Tariq, Brayden, Effie and Cane begin the process of moving Noma's weight. It's also made clear that Obi (Kyle Vincent Terry) can't wait for them to fail. This is where all four decide how it's all going to be divided. Brayden is hitting all the country clubs and rich white men establishments, while Effie is going after the Ivy League schools. One place where Tariq doesn't want Brayden selling is the Weston firm, for obvious reasons.
However, Tariq is forced to intern at the Weston Firm once Rashad Tate (Larenz Tate) fires him from his political campaign due to the Course Correct fallout. Though Brayden's father is totally against Tariq being there, uncle Lucas (David Walton) is fine with it for the sake of diversity and inclusion. Meanwhile, Brayden gets into a steamy relationship with Weston Firm executive Kiki Travis (Moriah Brown).
Cane finds the pilot who was supposed to fly Zeke and Mecca out alongside another worker at the airport and tortures them both to get information. The pilot mentions a bald headed man with a black jacket and broken tail light. Sullivan is also able to place Monet within the RICO case she's attempting to build against Tariq.
Tariq is fascinated by the hedonistic lifestyle many workers at the Weston Firm are accustomed to, including heavy cocaine use, strippers and an onsite personal trainer named Nick who also supplies drugs. This is where Tariq gives into Brayden's idea of selling drugs inside the firm. The two devise a plan to do so involving Cane.
Dru's boyfriend Everett asks him to attend an event as a final way to save their fractured relationship. When Dru is on the way to the event, he's jumped by a man over his killing of Lil Guap last season. Not only does the man steal his chain with Zeke's ring, but spray paints words on his back. Dru immediately tells Monet (Mary J. Blige), Lorenzo (Berto Colon) and Cane, letting them know that his relationship with Everett is over.
When Cane doesn't answer his call to help Tariq and Brayden's plan, the two go to Dru to take care of Nick. Dru pushes Nick into the street where he's killed after being hit by a truck. This opens up the Weston Firm to have a new drug supplier.
Meanwhile, Cane finds the man who jumped Dru, kills his two workers and delivers them to Monet. Lorenzo fools Monet and Cane (at first) that the man is the one who killed Zeke. After answering some questions, Monet kills the man with several gunshots and has Lorenzo and Cane clean up the crime scene.
As Cane and Lorenzo dispose of the body, Cane reveals that he knows Lorenzo killed Zeke. Instead of killing him or informing Monet, he uses Lorenzo to push Noma's weight for him, telling him, "I own you."
New episodes of Power Book II: Ghost season 3 air on Fridays on Starz.
Get the What to Watch Newsletter
The latest updates, reviews and unmissable series to watch and more!
Ural Garrett is an Inglewood,CA-based journalist and content curator. His byline has been featured in outlets including CNN, MTVNews, Complex, TechRadar, LA Weekly and more.