Power Book II: Ghost season 3 — release date, trailer, cast, plot and everything we know about the drama series
Tariq wants out of the business, but will those around him allow that to happen?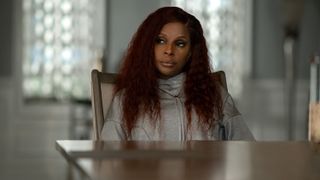 (Image credit: Starz)
In some good news for fans of the Power universe, Power Book II: Ghost season 3 is finally here.
At the end of Power Book II: Ghost season 2, viewers saw Tariq St. Patrick (Michael Rainey Jr.) take another step toward being his father when he declared he wanted out of the drug game. However, if he indeed is like his dad, he'll find that dream harder to see through to fruition given how deep he is into the business and how many people are vested in him playing his role.
So what can fans look forward to in Power Book II: Ghost season 3? Here's everything we know.
Power Book II: Ghost season 3 release date
In what is definitely not a coincidence, the new season of Power Book II: Ghost premieres on TV on St. Patrick's day, Friday, March 17, at 9 pm ET/PT on Starz. The episode follows the BMF season 2 finale.
Here's a synopsis of what's to come in the Power Book II: Ghost season 3 premiere:
"A new semester at Stansfield means a fresh start for Tariq. Brayden learns the ropes at Weston Holdings under his uncle Lucas. Monet grieves the loss of Zeke. Cane searches for a new connect."
For those that can't wait, the Power Book II: Ghost season 3 premiere debuted on the Starz App at midnight on Friday, March 17. In the UK, you can view episodes on the Lionsgate Plus App.
Power Book II: Ghost season 3 trailer
The season 3 trailer makes it quite clear that Tariq is going to have his hands full of chaos in the coming episodes. Unfortunately for him, this level of drama doesn't exactly set up the path for him to exit the drug business.
Power Book II: Ghost season 3 plot
Here is the official synopsis of the season:
"Power Book II: Ghost season 3 kicks off with Tariq St. Patrick determined to get his trust, get back to his family and get out of the game for good. A new connect interrupts Tariq's plans and puts him, Brayden and Effie back into business with the Tejadas.
"When Brayden brings Tariq in as an intern at his family's hedge fund, the drug business expands beyond Stansfield and onto Wall Street. Monet Tejada is willing to pay a price to avenge her firstborn and keep the rest of her children - and the business - in line as she works closely with Davis MacLean to solve Zeke's murder and keep the feds off her trail. A staggering reveal forces Tariq to reckon with a betrayal from those closest to him...and a R.I.C.O. investigation mounting, pulling Tariq deeper into the business and closer to the legacy of his father."
Power Book II: Ghost season 3 cast
At the center of Power Book II: Ghost is the character Tariq, played by Michael Rainey Jr. Rainey has been a part of the Power universe for years, first appearing in the original Power series. He's also been featured in The Butler, Barbershop: The Next Cut and Orange Is the New Black.
Starring alongside Rainey is the Grammy-winning R&B and hip-hop legend, Mary J. Blige. Blige has done a great job pivoting between music and acting, and has earned an Oscar nomination for her role in Mudbound. More recently she's been spotted in projects like Lost Ollie, Respect and The Umbrella Academy.
Season 3 also stars Gianni Paolo (Ma), Michael Ealy (Reasonable Doubt), Alix Lapri (Den of Thieves) and Cliff "Method Man" Smith (Godfather of Harlem).
By the way, interested in learning more about the Power Book II: Ghost season 3 characters and where they are headed. We've got you covered.
How to watch Power Book II: Ghost season 3
Power Book II: Ghost is a Starz original program. Those in the US hoping to catch new episodes as they become available can watch them live on the Starz channel. If you're someone that has gotten rid of cable/satellite television, Starz is available as an add-on service on live TV streaming platforms like Fubo TVand Hulu with Live TV. You can also watch new episodes on demand via the standalone Starz App (opens in new tab).
UK would-be viewers can watch the new season by utilizing a subscription to Lionsgate Plus.
Get the What to Watch Newsletter
The latest updates, reviews and unmissable series to watch and more!
Terrell Smith has a diverse writing background having penned material for a wide array of clients including the federal government and Bravo television personalities. When he's not writing as Terrell, he's writing under his pseudonym Tavion Scott, creating scripts for his audio drama podcasts. Terrell is a huge fan of great storytelling when it comes to television and film. Some of his favorite shows include The Crown, WandaVision, Abbot Elementary and Godfather of Harlem. And a fun fact is he's completely dialed into the TLC 90 Day Fiancé universe.