Meet the Power Book II: Ghost season 3 cast — who's who in the hit show
Get familiar with all the major characters in this Power world and check out where they are headed in the new season.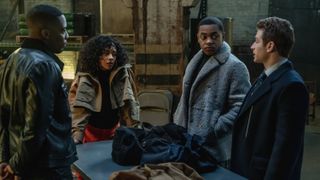 (Image credit: Starz)
After an explosive season 2 that saw some players in the Power universe bite the bullet and others transition off the canvas for other reasons, Power Book II: Ghost season 3 sees some familiar faces joined by new ones that are sure to shake things up.
As Tariq (Michael Rainey Jr.) is now on a mission to exit the drug game with his life and away from prison, viewers will have to see which players on the scene will prevent that from happening.
Let's get familiar with the characters and take an in-depth look at the Power Book II: Ghost season 3 cast.
Michael Rainey Jr. as Tariq St. Patrick
With his mom and baby sister squared away in protective custody, Tariq wants to collect the money he's owed and reunite with his family away from the criminal life. Unfortunately, leaving the underworld behind is nearly impossible as his drug contacts pull him further into the street hustle. Although he vows to be different from his father, Tariq's path makes him more like his dad than ever before.
Michael Rainey Jr has been portraying Tariq since the original Power first aired in 2014. He's also been spotted in The Butler, Barbershop: The Next Cut and Orange Is the New Black.
Mary J. Blige as Monet Stewart Tejada
With her firstborn son Zeke now dead at the hands of a murderer, Monet is out for vengeance. She wants to know who took her son's life and tasks Davis MacLean with finding that person. However, in the midst of grieving and on a quest for payback, she has to tend to the rest of her family and get back to business. It's yet to be seen if she can deal with all that's on her plate.
Mary J. Blige portrays Monet. The nine-time Grammy winner received an Oscar nomination in 2017 for her performance in Mudbound. She's also been spotted in Respect, The Umbrella Academy and How to Get Away with Murder.
Shane Johnson as Cooper Saxe
Having lost his civil service career as an FBI agent and a lawyer with the US Attorney's Office, Cooper is now a defense attorney working side by side with Davis. Although, his work with Davis is a sham, as he's really undercover as an informant for prosecuting attorney Jenny Sullivan (Paton Ashbrook), who happens to be his fling. His main goal though is to find dirt on Tariq and the St. Patrick family to exact revenge.
Shane Johnson plays Cooper Saxe. Johnson has made guest appearances in Blue Bloods, Scandal and Chicago P.D.
Gianni Paolo as Brayden Weston
Kicked out of Stansfield University and now working with his uncle at the family's hedge fund, Brayden attempts to carve out his own unique space in life by partnering in the drug game with Tariq. While the money and excitement of the underworld are appealing, when threats come out of the woodwork, Brayden realizes how dangerous dealing in crime can be.
Starring as Brayden is Gianni Paolo. He's previously starred in Ma, The Mick and The Fosters.
Lovell Adams-Gray as Dru Tejada
Dru was once happy with boyfriend Everett, but Dru's family ties to drugs continue to present a problem for the couple. As such is the case, Dru increasingly finds solace in an old family friend named Gordo. The latter encourages Dru to embrace the Tejada family business and even take control of the drug enterprise. Not to mention, the line between friendship and romance starts to blur between the two.
Portraying Dru is Lovell Adams-Gray. Adams-Gray has been spotted in Brother, Coroner and DC's Legends of Tomorrow.
Paton Ashbrook as Jenny Sullivan
Having lost the high-profile Jabari Reynolds murder case, Jenny is out to bury Tariq, the Tejadas and Davis. The prosecutor is willing to do almost anything to see her targets behind bars.
Paton Ashbrook plays Jenny. Ashbrook has been featured in The Baker and the Beauty, Blue Bloods and The Good Fight.
Moriah Brown as Keke Travis
Keke is the ambitious VP at Weston Holdings, who happens to be tangled up in a romantic situation of sorts with Brayden. While she and Brayden explore their mutual attraction, she has a hidden agenda of trying to find out what Brayden and Tariq are up to and how to use that information for her benefit.
Keke actress Moriah Brown was previously in Turnt, Raising Dion and Ballers.
Monique Gabriela Curnen as Blanca Rodriguez
Blanca is another person with a vendetta against the St. Patrick clan. As an NYPD officer, she's been trying hard to put a member of the crime family behind bars. Unfortunately in her efforts, she sees one of her confidential informants killed. With her eyes now set on taking down Tariq, she combines her forces with Jenny.
Monique Gabriela Curnen has been featured in Fast & Furious, The Dark Knight and Away.
Alix Lapri as Effie Morales
Effie has grown up often looking out for herself and has been hustling in the drug game with Tariq in an effort to pay for grad school. Coincidentally, the more she works with Tariq the more she finds herself falling for him. Unfortunately, a romance with Tariq may be doomed to fail should he find out that Effie murdered Tariq's girlfriend Lauren (Paige Hurd).
Effie Morales is portrayed by Alix Lapri. Lapri has previously starred in Den of Thieves and Red Band Society.
Woody McClain as Cane Tejada
Cane is on a mission take over his family business, competing against his younger brother Dru for the Tejada family throne. However, Cane feels he has the upper hand considering he's blackmailing Lorenzo for his support (Cane knows that Lorenzo murdered Zeke).
Playing Cane is Woody McClain, who portrayed R&B singer Bobby Brown in both The New Edition Story and The Bobby Brown Story. He was also spotted in The Harder They Fall.
Keesha Sharp as Professor Harper Bennet
Professor Bennet is the love interest of corrupt politician Rashad Tate. While she's committed to her students at Stansfield University, she also puts a lot of time and effort into nurturing her relationship with Rashad, trying her best to see their second go-around in love be successful. Unfortunately, his questionable actions often present a problem for her.
Keesha Sharp stars as Professor Bennet after previously starring in Girlfriends, Lethal Weapon (series) and Empire.
Cliff "Method Man" Smith as Davis MacLean
Davis has a lot of balls to juggle these days. Monet is pressuring him to find Zeke's killer, he and Tariq are being forced deeper into the drug game and he is trying his hardest to get his brother out of prison. Unbeknownst to him, he's also dealing with a trader among his midst in Cooper Saxe.
Wu-Tang Clan rapper Cliff Smith, aka Method Man, stars as Davis. Method Man has pivoted from music to acting having starred in projects like How High, Concrete Cowboy and Godfather of Harlem.
LaToya Tonodeo as Diana Tejada
She may be the daughter of Monet and Lorenzo, but Diana isn't in the best place with her parents after exposing Zeke's true parentage. However, Lorenzo helps Diana in her quest to go to college, but she has to help in the family business in the process, which she hates. Sadly, Diana doesn't see a way out of the criminal enterprise.
Diana is portrayed by LaToya Tonodeo. The actress has been in The Perfect Match, The Fosters and The Oath.
David Walton as Lucas Weston
Lucas is the investment manager of Weston Holdings and has been tasked with keeping an eye on his nephew Brayden. Often oeprating in the morally grey area and not above playing dirty, the older Weston also takes a liking to Tariq and sees him as a potential asset to the company.
David Walton stars as Lucas. TV watchers may recognize him from A Million Little Things, New Girl and About a Boy.
Larenz Tate as Rashad Tate
Rashad is not the most ethical attorney, so it's safe to say he wouldn't be the most ethical politician as he seeks to become a senator. Knowing a wife would boost his political aspirations, he rekindles things with Professor Bennet, but she's not exactly ready to overlook his questionable practices.
Larenz Tate has long been a fixture in Hollywood, appearing in Love Jones, Menace II Society, Ray and Girls Trip.
Michael Ealy as Don Carter
Don Carter is new to the Power universe. He's an NYPD detective who was once in line to be the city Police Commissioner when he lost his wife in a shootout between rival drug gangs. After her death, he committed himself to toppling drug empires in New York City and ridding the streets of drug-related crime.
Starring as the detective is Michael Ealy. Ealy is a Hollywood vet, having been in the Barbershop movies, the Think Like a Man films, Bel-Air and, most recently, Reasonable Doubt.
Watch Power Book II: Ghost season 3 Fridays on Starz and the Starz App.
Get the What to Watch Newsletter
The latest updates, reviews and unmissable series to watch and more!
Terrell Smith has a diverse writing background having penned material for a wide array of clients including the federal government and Bravo television personalities. When he's not writing as Terrell, he's writing under his pseudonym Tavion Scott, creating scripts for his audio drama podcasts. Terrell is a huge fan of great storytelling when it comes to television and film. Some of his favorite shows include The Crown, WandaVision, Abbot Elementary and Godfather of Harlem. And a fun fact is he's completely dialed into the TLC 90 Day Fiancé universe.