Power Book II: Ghost season 3 episode 1 recap — the pressure gets put on Tariq
Tariq is getting squeezed from all sides in the Power Book II: Ghost season 3 premiere.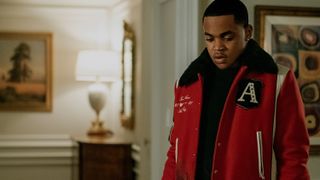 (Image credit: Starz)
NOTE: this post contains spoilers for Power Book II: Ghost season 3 episode 1, "Your Perception, Your Reality."
The final episode of Power Book II: Ghost season 2 ended with some shocking twists, revelations and a serious cliffhanger that kept people talking for months afterwards. Several important characters met their demise, including Carrie (Melanie Liburd), Zeke (Daniel Bellomy) and Mecca (Daniel Sunjata), which caused some serious ripple effects. Meanwhile, Tariq's (Michael Rainey Jr.) partner-in-crime, Brayden (Gianni Paolo) takes the blame for their mobile drug dealing app Course Correct, which gets him kicked out of school.
As season 3 fitting released on St. Patrick's Day, Power Book II: Ghost season 3 opens up in a serious way. This includes an introduction of a new captivating villain that is sure to cause problems for everyone.
A beautiful and obviously ultra expensive sapphire ring Tariq stole from Mecca in season 2 serves as the thing that pushes him back into the drug game. Pushed through an auction by his lawyer Davis Maclean (Method Man), it's won by a random man with deep pockets as a mysterious woman looks on. When that individual uses that ring to propose to his gorgeous fiancee at a water fountain, that same woman shows up with goons who demand the ring back. Once they refuse, they're murdered in an incredibly brutal fashion.
As Monet Tejada (Mary J. Blige) starts to unravel with the death of her son Zeke and searches for the killer, not knowing Lorenzo (Berto Colon) is the actual killer, she recieves Mecca's penthouse. Asking for money and other items, it's revealed the federal investigation into said assets are unavailable. Monet decides to stay at her residence, requesting her sons Cane (Woody McClain) and Dru (Lovell Adams-Gray) stay at the new penthouse instead.
Following a party at the penthouse, Tariq and Brayden come by to discuss getting back into the game with Cane. Considering the heat they have behind Course Correct, he immediately declines. That meeting is interrupted once the lights go out and military style goons burst in alongside the mysterious woman.
As Tariq settles into his semester at Stansfield University, Bash (Abubakr Ali), under the heat of the Course Correct scandal, threatens to blackmail him to the NYPD. It doesn't help that Tariq's also being railroaded by the school, including not even having a dorm room days before classes start. For some help, he reaches out to Rashad Tate (Larenz Tate), an associate of his father, Ghost. In the original Power series, Ghost helped fund Rashad's run for office.
Now that Brayden is kicked out of college, he joins his father's brokerage firm where he works under his uncle Lucas (David Walton.
It's revealed the mysterious woman is named Noma (Caroline Chikezie), Mecca's British partner and fiancee. Her main underling goes by Obi (Kyle Vincent Terry). They both have a thing for making fun of American crassness and overconfidence. After threatening the to kill Tariq, Brayden and Cane, they strike up an offer to not only help Noma find Mecca's killer but move weight for them within the city.
Season 2 came with the bombshell that Monet's daughter Diana (LaToya Tonodeo) revealed Zeke was Monet's actual son, instead of her nephew. This put a rift between the mother and daughter that got only grew following Zeke's murder. To get out of the house, Diana enrolls into Stansfield, even taking a class with Tariq. Wild enough, her roommate ends up being Brayden's sister, Becca (Samantha Blaire Cutler), to the disgust of her mother Nicole (Angela Reda).
Meeting Bash in his hotel room, Tariq offers to give him equity in his business venture as a way to pay him off. At the same time, Cane and Brayden are heading to the apartment to kill Bash in response to his threats. Following an exchange of words, Tariq grabs a steak knife and stabs Bash to death before the two get there. Tariq, Cane and Brayden wrap the dead body up in carpet for disposal.
Tariq attends a memorial event for Zeke at the Stansfield basketball court where he begins to speak on his friend. In the middle of the speech, he's interrupted by a random individual who blames him for Zeke's death. Following the event, a distraught Monet and Tariq have a heart-to-heart over the murder. Tariq promises Monet he'll find the killer. Earlier in the episode, Monet mentioned feeling trapped by the drug game that she's fought so hard to leave.
Tariq, Brayden, Effie (Alix Lapri) and Cane are familiar with Noma's wide scale drug operation. Intimidated by the amount of "work" available, Effie asks if they can even move that much weight.
But there's one more big surprise in the season 3 premiere, as it is revealed that Carrie is alive and under witness protection.
Several things are laid on Tariq in this opening episode. How is he going to balance life in school, pushing drugs with Noma lingering over his head and find Zeke's killer? It'll be interesting to see how the rest of Power Book II: Ghost season 3 plays out.
New episodes of Power Book II: Ghost season 3 premiere exclusively on Starz on Fridays. Meet the key players of the Power Book II: Ghost season 3 cast right here.
Get the What to Watch Newsletter
The latest updates, reviews and unmissable series to watch and more!
Ural Garrett is an Inglewood,CA-based journalist and content curator. His byline has been featured in outlets including CNN, MTVNews, Complex, TechRadar, LA Weekly and more.