The Good Doctor season 6 episode 15 recap: Jared returns
The former intern arrives with a patient he is treating privately but needs some extra help with.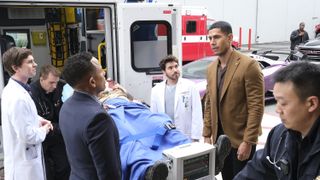 (Image credit: ABC/Jeff Weddell)
NOTE: this post contains spoilers for The Good Doctor season 6 episode 15, "Old Friends."
Lea's (Paige Spara) pregnancy has progressed to the point where she has to start making tangible lifestyle adjustments, like transitioning into maternity pants. She has some reservations about how her life will change and her feelings are further exacerbated when Shaun (Freddie Highmore) insists they discuss changing her car for safety reasons.
Lea discusses her conflicting emotions with Dr. Glassman (Richard Schiff). While Lea is excited about becoming a mom, she's a bit resentful about how all the changes will impact her current lifestyle and how she defines herself. She believes her car helps define who she is as a person and doesn't want to lose that part of herself. Dr. Glassman advises that having conflicting emotions is part of being human and she has no need to feel guilty.
Dr. Glassman solves the car problem by buying them a sleek SUV and has it painted exactly like Lea's current car. Both Lea and Shaun are excited about their new ride.
While Lea deals with her pregnancy, unfortunately for Dr. Reznick (Fiona Gubelmann), she still hasn't gotten pregnant via IVF. The issue compounds when she has to deal with a pregnant woman whose pregnancy needs to be terminated.
The woman is part of the study Dr. Reznick oversees and a routine check up discovers she's leaking amniotic fluid. This condition can lead to uterine infection that requires a hysterectomy and possible death of the mother. Dr. Reznick advises her patient to terminate, but the patient is desperate to keep her baby, even at risk of death. This is only strengthened after Jordan (Bria Henderson) shares her personal belief regarding religion and abortion.
Dr. Reznick accuses Jordan of not being objective about her advice because of her faith and residual guilt about having an abortion. Dr. Lim (Christina Chang) shares that personal experience often affects discussion around the topic of abortion, even sharing her own abortion story. Ultimately, Jordan is forced to confront her own feelings of guilt about having an abortion and forgive herself.
On the brink of death, at the patient's bedside, Jordan shares her own experience of dealing with guilt and coming to understand how to forgive herself. She explains to the patient that in order to fulfill her God given purpose of becoming a mother, she has to let the current fetus go. The patient consents and asks Jordan to perform the procedure. This becomes a full circle and healing moment for Jordan. The incident also brings Jordan, Dr. Lim and Dr. Reznick closer together despite having conflicting opinions on a difficult topic.
Shaun, Asher (Noah Galvin) and Dr. Andrews (Hill Harper) work together to help a VIP client. The patient has a concierge doctor, Jared (Chuku Modu), who was a former intern at the hospital. He was fired for assaulting an attending who he believed had harmed a fellow intern. Dr. Andrews was the chief of surgery who terminated Jared and is now personally invested in the care of the VIP, as Dr. Andrews is lobbying him to fund one of the hospital's initiatives.
The patient develops some complications, but Shaun is able to diagnose the root cause of his issues and provide treatment.
Shaun talks to Jared about fulfilling his potential as a surgeon. Jared discovers he really misses practicing medicine and wants to come back. After receiving the blessing of Dr. Andrews, he speaks with Dr. Lim, expressing how much he's grown and learned about himself. Dr. Lim gives him a place as a first-year intern and welcomes him back to the hospital. However, losing his concierge doctor angers the VIP patient who then rescinds his offer of funding to the hospital.
Dr. Park (Will Yun Lee) and Daniel (Brandon Larracuente) get a patient through the ER who appears to have terminal cancer. Dr. Park realizes the patient is the same man who had an affair with his ex-wife. Despite his feelings, Dr. Park continues on the case and discovers the patient was misdiagnosed and his cancer isn't actually terminal. The patient learns he's not going to die but doesn't seem happy. Daniel helps Dr. Park realize the real reason the patient came to their ER is to seek forgiveness for past transgressions. Dr. Park discusses his feelings with Dr. Reznick who helps him see he has a pattern of holding grudges. Dr. Park makes the conscious decision to forgive the patient who wronged him in that past, which the patient appreciates.
The episode ends with Shaun, Lea and Jared celebrating being back together. There's a knock at the door, and when Shaun answers he's served papers saying he's being sued for malpractice. Who is suing Sean and why?
For answers to that question and more, watch the next episode on Mondays at 10 pm ET/PT on ABC and streaming the next day on Hulu.
Get the What to Watch Newsletter
The latest updates, reviews and unmissable series to watch and more!
Taayoo Murray is a New York City transplant who is a full-time boy mom, freelance writer, and teen goal-setting coach. She's also a published author of the interactive workbook, "Making Me Happen (opens in new tab)." She has been published in Health, Business Insider, HuffPost Wellness, Livestrong, Yahoo Life and others. When not working, Taayoo enjoys hanging with her three best friends and drinking white wine.