Holby's Hugh Quarshie on Ric's trial: 'The jury might think he's as guilty as sin!'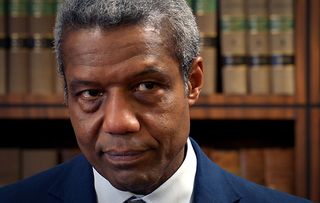 (Image credit: BBC)
After spending weeks in prison on remand, Holby's esteemed consultant Ric Griffin is on trial next week for medical manslaughter. Hugh Quarshie reveals all about Ric's day in court...
As his day in court arrives in Holby City, Ric Griffin fears he could be heading for jail, as Hugh Quarshie reveals…
Holby consultant Ric Griffin is in court, where he stands accused of medical negligence manslaughter following the death of his patient, Elaine Warren. How's he feeling about the trial?
"He's not relaxed but I think he's resigned to his fate. He's had enough time to realise that he has to take responsibility for his actions, regardless of his motives."
In flashback, it's revealed what happened in the 48 hours leading up to his Elaine's death. What do we learn about Ric's frame of mind during that time?
"Like all professionals, Ric tries to do his job regardless of how he feels. But, like all human beings, sometimes he finds it impossible to ignore his feelings, especially his anxiety about his daughter Jess, who he'd received some troubling news from. He tries to displace his anxiety by caring for other people – but the anxiety never goes away."
In court, Ric's colleagues Donna and Amira are called to give evidence. Do we find out if Ric DID order the blood-thinning drugs that could have saved Elaine's life?
"It would be standard practice to administer warfarin or other blood-thinning agents to any patient at risk of developing clots or thrombosis, as Elaine was. Ric is sure he ordered the drugs but there's nothing in the patient's records. Someone is going to have to admit they made a mistake, which proved to be fatal. There's a saying that 'the truth will set you free' – but in a court of law, the truth may send you to jail…"
Holby boss Henrik Hanssen (Guy Henry) gives Ric a glowing testimony in court. What does his speech say about Ric and the NHS in general?
"Hanssen says what I think we all know, that the NHS depends on people like Ric Griffin performing what's known as the A&B of the C&D: going Above and Beyond the Call of Duty."
How much have you enjoyed playing a vulnerable side to Ric with this storyline, particularly when he was on remand in prison awaiting trial?
"It's been very interesting and absorbing to explore the vulnerability of a man who thinks he's invulnerable, who realises that however tough he may be, he's not mean. And also exploring the bigger question: in a mean world, is it foolish naivety to care about anybody but yourself? The loss of temper that led to Ric assaulting Elaine Warren's son a few months back has, a bit late in life, led to a deeper understanding of his limits as a man. But better late than never!"
The outcome of the trial is not revealed in this episode. If you were a member of the jury would you find Ric guilty – or not guilty?
"I would hold him responsible but I'm not sure I would find him guilty. Of course the other members of the jury might think he was as guilty as sin… or Harold Shipman!"
You've been in Holby since 2001. What does the show, and playing Ric, mean to you?
"I've said before that the fact that millions of people watch the series makes it by definition part of the national cultural diet. And it matters to me that Holby City and Casualty have diverse casts and characters are not defined by ethnicity, age or gender. Being a Continuing Drama means that we have soap elements, sure, but we always aspire to and often achieve dramatic excellence."
Why do you think Holby is still so popular after all these years?
"The USP of the series is not the way it's filmed but the cast of characters. We keep them interesting and we keep them real; or in Ric's case, surreal, when he comes in with a screwdriver sticking out of his side!"
What do people say when they meet you out and about? What's the weirdest fan encounter you've had?
"I once met an English lady in France who thanked me for saving her life. She explained that she, like Ric, had been diagnosed with cancer of the caecum, which had spread to her liver. She, like him, had been told that it was terminal. But after seeing Henrik Hanssen perform a life-saving hemihepatectomy – in plain English, cutting out half of Ric's liver – she had demanded a second opinion, had the same procedure and survived. I have to say that moved me pretty profoundly."
You're in the film Red Sparrow, which is in cinemas now. What was it like working on that film - and with Jennifer Lawrence?
"I didn't have any scenes with her, unfortunately; but I did work with her co-star Joel Edgerton who really impressed me. Holby is something of a production line: we make 52 episodes a year and so we have to get on with. And of course our achievement is to make that quantity without unduly compromising quality. Working on Red Sparrow was a reminder of the painstaking composition that goes into every shot in a feature film. It's like the difference between a very good set menu and eating à la carte."
Are there any film/TV/theatre roles you'd still like to play?
"Yes, Black Panther II, III and IV! And a TV project I'm trying to develop which I shall keep under wraps. For now."
Holby City continues Tuesdays at 8pm on BBC1.
Get the latest updates, reviews and unmissable series to watch and more!
Thank you for signing up to Whattowatch. You will receive a verification email shortly.
There was a problem. Please refresh the page and try again.