Holby's Tina Hobley: 'I want my next role to be totally different to Chrissie'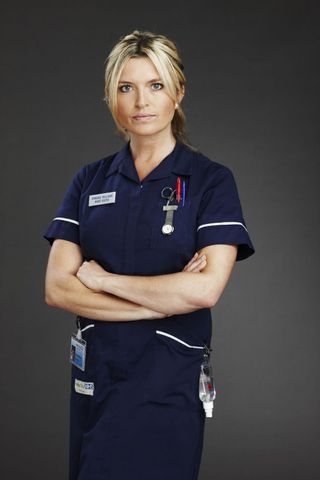 Tina Hobley leaves Holby City (BBC1, Tuesday) this week after 12 years playing ward sister Chrissie Williams. Here, Tina looks back at her time on the show, and considers what's next...
Chrissie's certainly been through a lot this past few months, hasn't she?

"Yes, she's had cancer then after learning she was in remission husband Sacha served her with divorce papers. I think she's found the whole thing really draining."
But last week Chrissie found a shoulder to cry on in the shape of colleague Michael Spence...
"For Chrissie, Michael is this knight in shining armour who's always there for her - he's the one she turns to every time she's at a low point. This all comes to a head and what you see is this couple that probably should have been together five years ago."
Michael's very keen for them to start a relationship this week, isn't he?
"Michael wants them to be together, to run away together, suggesting they could work in the States. Chrissie gets swept along with it all and thinks it could be brilliant."
However, Chrissie reconsiders her aims in life when the victim of an acid attack is admitted to Holby...
"Chrissie can't understand how Eve can stay with her boyfriend Adam, a man who's left her with such horrific injuries. As Chrissie tells Eve she's a bright, independent young woman, Chrissie realises she's one herself and that it's time she thought about what she really wants and what's best for her... for now and for the next chapter."
Without giving too much away about how she leaves, do you think it's a fitting departure for Chrissie?
"Oh, it's better! It's very positive - she's not dying and the producers have left the door open, so she could easily come back. I wanted lots of hope for Chrissie... and there's a plenty of that."
What will you miss about Holby - it's been 12 years of your life!
"Yes, it has been a very long time. I'll certainly miss Chrissie, her colourful life and her feistiness. And all the different relationships she's had over the years - she's certainly had A LOT!"
Who's been your favourite of all of Chrissie's lovers?
"I think the love of her life will always be Owen Davies [played by Mark Moraghan between 2001 and 2005]. I wish they'd have brought him back for my last couple of episodes. But, who knows, they might find each other now."
What's next for you?
"I'm looking at everything at the moment - I want the next role I take to be totally different to Chrissie. A period drama would be great; zero make-up and a corset would suit me down to the ground."
Get the latest updates, reviews and unmissable series to watch and more!
Thank you for signing up to Whattowatch. You will receive a verification email shortly.
There was a problem. Please refresh the page and try again.