Lauren Drummond: 'I want to do something gritty after Holby'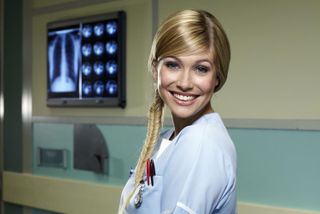 Holby City's loveable nurse Chantelle Lane decides it's time to move on this Tuesday, as Lauren Drummond reveals...
It's been a difficult few months for Chantelle - she's been mugged, then was recently involved in a car accident, which resulted in her having brain surgery. How have these things affected the happy-go-lucky nurse?

"It's been a massive coming of age for Chantelle, she's had to grow up. Chantelle always looked at life through rose-tinted glasses, which is easy when you haven't had the knocks in life that make you stronger. But things have happened that have made her realise life isn't all rosy."
How is Chantelle feeling at the start of this week's episode?
"She seems to be back to her old self, but she's still having nightmares about the crash and is taking medication to help. However, she soon gets a welcome distraction in that it's Arthur's birthday. Chantelle loves birthdays, so she decides to organise a surprise party for him."
So, Chantelle's happy until she arrives at Holby to discover that Cameron Pollins - the boy who mugged her - has been admitted. How does she feel about seeing him again?
"Arthur misinterprets that Chantelle's sympathising with Cameron. In fact, she's more angry with the way she's had to discover the world since the mugging. This causes protective Arthur, who's in love with Chantelle, to belittle Cameron for making her feel the way she does."
Unfortunately, Cameron takes a turn for the worse, prompting Chantelle to consider her future at Holby...
"Chantelle realises it's not healthy for her to be around and thinks it's best for both her and Arthur if she leaves. Also, she doesn't recognise herself any more and knows it's time to move on to grow as a person. There are some tears but, it's Chantelle, so there are lots of smiles, too!"
What will you miss about Holby?
"Having a cup of tea and a chat with my castmates and I'll really miss playing Chantelle, who I've grown to love. I always admired the way she had no filter on authority - she treated the cleaners the same way she'd treat Mr Hanssen. I'm really glad the door's been left open."
What's next for you?
"I'd love to do a gritty drama like Prisoners' Wives. Holby pushes the boundaries as much as it can for a pre-watershed drama, but it would be nice to do something without restrictions. Although, the cuts and bruises I've had as Chantelle recently have certainly been a warm-up!"
Get the latest updates, reviews and unmissable series to watch and more!
Thank you for signing up to Whattowatch. You will receive a verification email shortly.
There was a problem. Please refresh the page and try again.