Ex-Hollyoaks star Andy Moss makes his West End debut!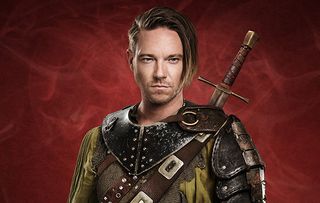 (Image credit: Michael Wharley)
Former Hollyoaker Andy Moss, who played doomed Rhys Ashworth in the soap, tells Soaplife about his new London stage role…
Andy Moss crashed out of Hollyoaks in 2012 when Rhys Ashworth lost his life in the soap's dramatic mini-bus disaster. He had spent seven years on the show, and knew it was time to go…
What's the story?
It's been onwards and upwards for Andy since then, including stints on the BBC daytime soap Doctors, starring as Aladdin in panto, and making a brief Hollyoaks return as a ghostly Rhys. Now he's making his debut on London's West End stage…
What's happening in Hollyoaks? See the latest soap storylines
Soaplife's interview with Andy Moss about starring on the London stage…
Soaplife: We hear you're making your West End theatre debut, Andy!
Andy Moss: "You hear right. I'm appearing in a brand-new musical called Knights of the Rose at the Arts Theatre in London. I'm really excited about it."
S: What's the play about?
AM: "Think Game of Thrones meets Bon Jovi with a bit of classic Shakespeare prose and some poetry thrown in. It's a rock musical that mixes everything up and it's a tale of love, betrayal, family and honour. It's truly epic!"
S: It sounds a bit like a soap but with music!
AM: "Ha, ha! Yes, well, we're talking universal themes, aren't we? I play a character called Prince Gawain and he's second in line to the throne. He's a medieval-type Prince, so I'm dressed in chain mail and I brandish a sword and all that stuff. Gawain returns from the battle and he falls in love with one of the Kingdom's loveliest maidens. I get to sing Bed of Roses, one of Bon Jovi's classic songs as a solo. It's a song I grew up with, so to be singing it in the West End is awesome."
S: Does the musical feature other music apart from Bon Jovi?
AM: "Yes. We perform No Doubt, Meatloaf and Bonnie Tyler numbers. They're classic rock songs, really. There's also a rock band on a rostrum on the stage with us, which is incredibly exciting."
S: This may be your first time on the West End stage, but it's not your first musical, is it?
AM: "No. I toured the UK with Ghost last year. It was nine months on the road and I learned a lot. It was hard going at times as we had a live orchestra and so you had to sing exactly the same way in every performance. While that was good discipline, singing with a rock band gives you more freedom. You can be more organic, if you like."
S: Is it extra exciting because Knights of the Rose has never been performed before?
AM: "Totally. It makes it a much more creative process and we all get to add input to it. In rehearsal, we've had time to experiment and let it breathe. I've never done that before."
S: Will any of your old Hollyoaks' mates be coming to see you in The Knights of the Rose?
AM: "Hopefully my old TV family, my fellow Ashworths, will. They all came to see me in Ghost. In fact, there's a picture on my Instagram of it."
Get the What to Watch Newsletter
The latest updates, reviews and unmissable series to watch and more!