Hollyoaks' Steph Waring: 'Cindy gives birth at 24 weeks and knows her baby could die'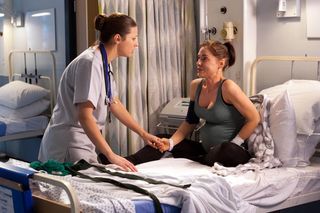 Hollyoaks' Steph Waring tells Soaplife how the stress of Dr Browning's murder and being pregnant with his child brings on the premature birth of Cindy's baby… And now her biggest fear is that her baby won't live.
Cindy's falling apart, isn't she?
"She is carrying Dr Browning's baby and the guilt she feels about his murder won't go away. She still thinks she, Lindsey and Mercedes will be caught."
How are things with Dirk at this point?
"They get back together. Cindy faints and he helps her upstairs. It's a lovely scene, but I don't know if they will stay together. Mercedes and Lindsey are more worried about Cindy's mental state and that she'll lose it completely and blab."
How does Cindy feel about being a mum again?
"She wants to be a good mum. This baby is her new start. She wants to right all the wrongs. Her waters break when she is with Dirk."
She must be terrified…
"She is. Lindsey is there, too, and Cindy is rushed into hospital, where she gives birth to a boy. As she was only 24 weeks pregnant, she knows there's a chance that the baby won't survive. She is in a very vulnerable state mentally. A lot of babies don't survive at 24 weeks, so it is terrifying, dramatic and sad. Cindy is laid bare. She is stripped of everything she was and it is all about this little baby."
Will we see a different Cindy on the other side of this?
"I think we will, but I don't know if it will necessarily be in a good way."
Get the latest updates, reviews and unmissable series to watch and more!
Thank you for signing up to Whattowatch. You will receive a verification email shortly.
There was a problem. Please refresh the page and try again.