Hollyoaks actress Jenny Lee on why she feels sorry for the villainous Granny Campbell!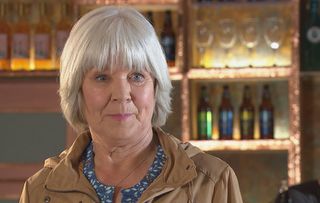 Actress Jenny Lee has talked about playing Courtney Campbell's evil nan in Hollyoaks and life after soap, in this new interview.
We all cheered when new mum Courtney Campbell finally booted her controlling gran out of Hollyoaks village last month. But actress Jenny Lee has revealed to Soaplife that she has some sympathy for her character!
Soaplife's interview with Jenny Lee about Granny Campbell
Soaplife: What are you up to, Jenny?
Jenny Lee: "I'm appearing in a fantastic play called Kindertransport. It opens in the late 1930s, just before World War Two, and it tells the story of Eva, a Jewish/German child, who's about to leave her home and her family to travel to Britain – and safety."
S: Who are you playing?
JL: "A character called Lil. She's the woman who takes Eva in when she arrives in the UK. Initially, she's her foster mother but Lil adopts her and becomes her second mother."
S: Lil sounds much nicer than Granny Campbell in Hollyoaks!
JL: "I'll say! I can't imagine her ever taking in a stranger out of the goodness of her heart. She doesn't have a lot of generosity. Of course, she ended up bringing Courtney and her cousins up, but she's a control freak who thinks she knows everything and her way is the only way. Poor Granny Campbell!"
S: Do you feel sorry for her?
JL: "The bottom line is she's desperate for love and she wanted to hang on to the one person she had left in Courtney. But she's gone about it in completely the wrong way and now Courtney's sent her packing."
S: Will she be back?
JL: "I have absolutely no idea. I'd be happy to go back, though. I had a wonderful nine months at Hollyoaks. The people are lovely and I like the mix of light and shade you get with the show. Hollyoaks is very good at mixing up dark and dramatic story lines with humour."
Hollyoaks continues on C4.
Get the latest updates, reviews and unmissable series to watch and more!
Thank you for signing up to Whattowatch. You will receive a verification email shortly.
There was a problem. Please refresh the page and try again.