Law & Order UK's Bradley Walsh: 'However strange a crime, Ronnie's seen it all!'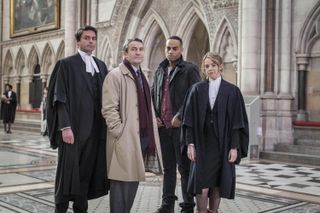 Bradley Walsh is back on the beat as DS Ronnie Brooks in the new series of Law & Order: UK (Wednesday, March 12 - and this time he's got a new partner…
This is the eighth series, do you find it easy to get back into character for filming?
"I need to watch a few episodes to get back into the role of Ronnie when I come back to film a new series. I can't quite get back into his mannerisms straight away. I've an odd perception of fame, celebrity and characters. I don't take it home!"
You've got a new partner this year, DS Joe Hawkins (Ben Bailey Smith), transferring from child protection. How does he measure up on the murder squad?
"Ron's a bit standoffish at the start! Ben pulls him up in an interview, because it's his area of expertise. But by the end of the episode Ronnie's asking Joe to teach him what he knows. Ronnie takes all of his partners on board completely. He appreciates he can be seen as a bit of a dinosaur and tries to adapt despite the age difference."
What gritty storylines can we expect in the new series?
"Episode one is a great opener. It's a clever script and the journey it takes us on is very harrowing, as they try to discover why the victim was chopped up and had his teeth taken out. This series there's a diverse range of stories. We have one on institutionalised racism in the force. We have a random killing in the finale, showing the fragility of life. I'm very proud of Law & Order."
What makes Ronnie so successful as a cop?
"Ronnie doesn't jump to conclusions and that's why I love playing him. It's all about truth and justice. The great thing about Ronnie, with all his years of experience is no crime is brand new. Whether a murder or a robbery there are only so many ways it can be done. However strange, he's seen it all!"
Did you ever suspect DS Ronnie Brooks would become such a popular character when the show started back in 2009?
"I had no idea at all when I started playing him! I was thrilled to be shortlisted in the National TV Awards Detective of the Year category with Olivia Coleman, Idris Elba and Benedict Cumberbatch, especially because the British public votes for the awards. What great company!"
Get the latest updates, reviews and unmissable series to watch and more!
Thank you for signing up to Whattowatch. You will receive a verification email shortly.
There was a problem. Please refresh the page and try again.