Angels & Demons | Tom Hanks dashes another Dan Brown conspiracy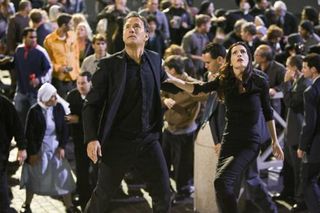 A terrifying conspiracy is afoot. Somewhere a secret cabal is at work, its reach spanning the globe and its influence manipulating the minds of millions. Of that I'm sure. There has to be a conspiracy. The cabal must exist. How else to explain the staggering success of Dan Brown's ineptly written, ludicrously plotted novels – and their equally preposterous film adaptations?
Clearly, the conspiracy is so pervasive, the cabal so strong, that critics are powerless. Fight back though we may, nothing can prevent Angels & Demons, Ron Howard's latest Brown opus for the big screen, from emulating the blockbuster success of The Da Vinci Code.
That the movie will be a giant hit is obvious. The clues are easy to read. Tom Hanks, having ditched the mullet, is back in the role of dashing Harvard symbologist Robert Langdon (by dashing I mean he dashes around a lot) and the plot follows the same formula as before – Langdon gets into a hectic race against time to decipher a crock of art historical/ecclesiastical arcana before… I don't know, before the heavens fall.
Brown actually wrote Angels & Demons before The Da Vinci Code, but the film positions itself as a sequel, which is rather awkward for the scriptwriters, who have to convince us that the Vatican would be quick to summon Langdon to Rome when it gets into a fix (he being responsible for all those embarrassing revelations about Jesus in his last adventure).
But the Vatican is in a real jam. The old pope has died and the Church's cardinals are gathering in conclave to elect his successor. Somewhere in the Vatican, however, a ticking time bomb of anti-matter stolen from the CERN Large Hadron Collider is set to explode in a matter of hours. (Don't worry: Dan Brown's grasp of science is as half-witted as his grasp of theology and art history.)
The threat appears to come from a centuries-old secret society known as the Illuminati. Even more pressingly, these sworn enemies of the Church have kidnapped four cardinals, leading candidates in the Papal election, and are promising to kill them one by one, hour by hour. Only Langdon can save the day.
With the clock running down, he must solve yet another set of cryptic riddles (by cryptic I mean they usually lead the solver into crypts). Again, the key to the puzzle is an artist, but this time it's not Leonardo da Vinci but the 17th-century Baroque sculptor and architect Gian Lorenzo Bernini.
Conveniently, all the clues are written in English (the language, Langdon helpfully explains, of "radicals like Chaucer and Shakespeare") and Langdon soon has the mystery within his grasp. With fetching CERN scientist Vittoria Vetra (Ayelet Zurer) at his side, he zips back and forth across Rome, solving every enigma on the run.
It's a good thing he's on the run. Hanks's Langdon still barely draws breath without waffling the same expository gobbledegook that made The Da Vinci Code such a plodding experience, but this time he does more than just walk and talk - he spouts and sprints!
What he spouts remains tosh, of course, but this time, fortunately, Howard's movie actually moves. Langdon is constantly at the double as he undertakes a hectic tour of Rome that takes in visits to St Peter's, the Pantheon, Santa Maria del Popolo, Piazza Navona, Santa Maria della Vittoria and the Castel Sant'Angelo, as well as brushes with such key suspects as Ewan McGregor's ingratiating Papal chamberlain, Stellan Skarsgard's obstructive commander of the Swiss Guard, and Armin Mueller Stahl's suave cardinal.
The acting's nothing to write home about, but the scenery is well worth a bunch of postcards. Rome, partly real and partly conjured up in studios and computers, looks fabulous. Having visited all the churches and squares featured in the film while researching a couple of books on Rome, I was staggered by the persuasiveness of the filmmakers' cinematic chicanery.
Does this mean I too have succumbed to the conspiracy? I'm more than a little worried by my reaction to the film, as I am by the fact that my spellcheck doesn't recognise the word symbologist. Furthermore, Harvard denies the existence of a professorship of symbology at its august institution, and no other leading university admits to accommodating such a post. Suspicious or what?
https://www.youtube.com/watch?v=dhMQVeL8Kqw
Get the What to Watch Newsletter
The latest updates, reviews and unmissable series to watch and more!
A film critic for over 25 years, Jason admits the job can occasionally be glamorous – sitting on a film festival jury in Portugal; hanging out with Baz Luhrmann at the Chateau Marmont; chatting with Sigourney Weaver about The Archers – but he mostly spends his time in darkened rooms watching films. He's also written theatre and opera reviews, two guide books on Rome, and competed in a race for Yachting World, whose great wheeze it was to send a seasick film critic to write about his time on the ocean waves. But Jason is happiest on dry land with a classic screwball comedy or Hitchcock thriller.