The Beast From 20,000 Fathoms (1953) | Ray Harryhausen's monster on the rampage classic on special edition Blu-ray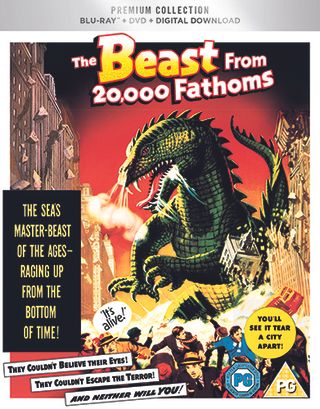 Warner Bros. Home Entertainment unleash The Beast from 20,000 Fathoms on Blu-ray, DVD and Digital as part of The Premium Collection.
An atom bomb thaws out a towering rhedosaurus in the Arctic which does the obvious thing and heads for New York…
Preceding Godzilla by 16 months, this box-office hit helped spawn the atomic-age monster films. Based on a tale by sci-fi author Ray Bradbury and with special effects by Ray Harryhausen, the sci-fi adventure features two very foolish cops – who stand up to the beast with their revolvers! – and an early performance from future Spaghetti Western star Lee Van Cleef as the Big Apple's sharp-shooting saviour. While a tad talky in parts, the best scenes include a lighthouse being destroyed and the spectacular Coney Island roller-coaster finale.
DID YOU KNOW? Many of the sets in the film were built at enormous expense – only to be quickly destroyed as part of the plot. A costly routine, but the effect is convincing. One of the props was a huge mock iceberg. For the base of the model, technicians packed together 40 tons of plaster, 30 tons of salt and – to make it crackle realistically under the actor's feet – 500lbs of cornflakes. To complete the structure, they crushed 70 tons of real ice and sprayed over the cornflakes. It was the biggest helping of frosted flakes Hollywood had ever seen!
The Beast From 20,000 Fathoms joins Warner Bros. Home Entertainment's Premium Collection on Blu-ray, DVD and a Digital Copy (via the Ultraviolet service) in a collectible slipcase, which includes four artcards featuring the films key art and three lobby cards style stills.
SPECIAL FEATURES • The Rhedosaurus and the Rollercoaster: The Making of the 'Beast' (6min, 2003) • Harryhausen & Bradbury: An Unfathomable Friendship (17min, 2003) • Armatures (59) • Theatrical Trailer
Ray Harryhausen's Clash of the Titans and The Valley of the Gwangi are also available as part of The Premium Collection.
Get the latest updates, reviews and unmissable series to watch and more!
Thank you for signing up to Whattowatch. You will receive a verification email shortly.
There was a problem. Please refresh the page and try again.