Blind | Alec Baldwin and Demi Moore team up two decades on for a glossy romance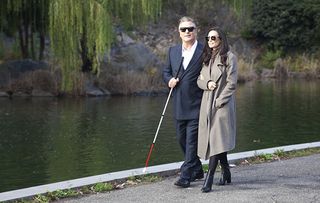 We see what we want to see.
Two decades after co-starring in 1996's legal thriller The Juror, Alec Baldwin and Demi Moore team up again for this glossy romance about the unlikely love affair between a blind author and the pampered wife of an unscrupulous Wall Street tycoon.
In The Juror, the pair played antagonists. And they start off that way here. Moore's socialite, Suzanne Dutchman, is a reluctant volunteer reader at a centre for the blind, doing community service after seeing her ruthless husband Mark (Dylan McDermott) indicted for some big league financial shenanigans. Baldwin's blocked writer, Bill Oakland, is crabby and churlish with everyone, it seems. But he takes particular delight in baiting his new visitor. Of course, as time goes by, their mutual animosity turns into attraction…
The directing debut of indie producer Michael Mailer (son of legendary author Norman Mailer and brother of the film's screenwriter, John Buffalo Mailer), Blind is a movie that happily flirts with hokeyness and embraces clichés. Its symbolism – Suzanne being wilfully blind to her husband's misdeeds – is overly obvious, too.
Yet for all its flaws, the film is strangely enjoyable. McDermott's bullying alpha male is gratifyingly vile. And the cinematography glows - chillily in the scenes of penthouse luxury and more warmly in the vicinity of Bill's Brooklyn brownstone. Best of all, Baldwin and Moore have an appealingly mature chemistry that allows us to forgive the predictability of the story that brings them together.
Certificate 15. Runtime 106 mins. Director Michael Mailer
Blind debuts on Sky Cinema Premiere on 7 January.
https://www.youtube.com/watch?v=YNqNquS7wa0
Get the latest updates, reviews and unmissable series to watch and more!
Thank you for signing up to Whattowatch. You will receive a verification email shortly.
There was a problem. Please refresh the page and try again.