City of Tiny Lights | Riz Ahmed's West London private eye is haunted by the past, dogged by the present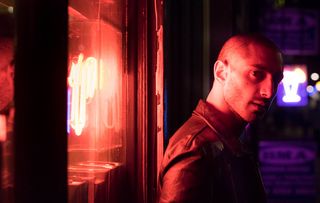 'I wanted to stay around but I had a girl to find and a murder to solve,' says Riz Ahmed's world-weary private eye Tommy Akhtar, sounding every inch a West London Philip Marlowe.
Despite the hard-boiled voice-over narration, however, detective thriller City of Tiny Lights is far from convincing as a modern-day noir. Not that the movie, adapted by Patrick Neate from his 2005 novel and directed by Pete Travis (Dredd), doesn't try hard. It ticks off almost all the gumshoe-movie clichés: a chain-smoking, whiskey-slugging sleuth, an enigmatic femme fatale, neon-drenched streets and a tangled plot. It even has Venetian blinds.
"Blurry slow-motion action"
Yet the end result is very much shop-soiled Raymond Chandler. It doesn't help that Ahmed's Tommy spends as much time brooding about his ill-starred teenage friendship with Billie Piper's single mum Shelley as he does striving to solve the case brought to him by Cush Jumbo's possibly duplicitous prostitute Melody.
She wants Tommy to find her missing friend, Russian call girl Natasha. The mystery soon widens to encompass a dead body in a Paddington hotel, the shady property deals of Tommy's childhood friend Haafiz (James Floyd), a rabble-rousing radical mullah (Alexander Siddig) and a suspicious CIA spook (Vincent Regan).
Yet as the plot thickens, it doesn't get any more gripping. The flashbacks slow the narrative down and the bursts of blurry slow-motion action fail to speed things up. Even more disappointingly, the villain is all too easy to spot. All in all, a soft-boiled disappointment.
Certificate 15. Runtime 109 mins. Director Pete Travis
https://www.youtube.com/watch?v=9I2z4YPuMZ0
Get the latest updates, reviews and unmissable series to watch and more!
Thank you for signing up to Whattowatch. You will receive a verification email shortly.
There was a problem. Please refresh the page and try again.